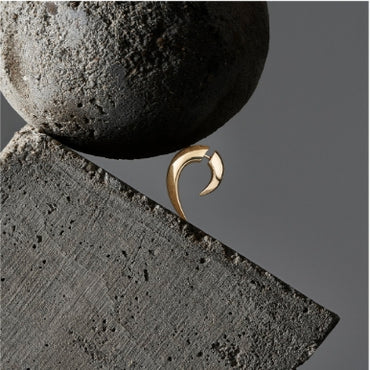 For Lovers
Gifts of love that last in luxurious
finishes;1ct gold, pavé-set diamonds, sterling silver, yellow or rose gold vermeil. Bestselling florals are found in Cherry Blossom and Rose Thorn, featuring rings, bracelets, earrings and necklaces that celebrate modern romance. Or spoil with the purity of freshwater pearls from our Hooked Pearl collection, stacking rings pavé-set diamonds, exuberant pink, yellow and blue sapphires or tsavorites in our 18ct gold Interlocking collection and jewelled mementos from Entwined. Mark celebrations in a glorious array.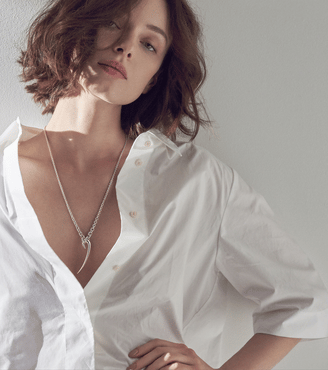 Icons
Our Icons selection makes exceptional occasion and show-stopping gifts effortless. Statement-making moments include our yellow gold vermeil distressed Neptune choker and cuffs; camera ready Quill choker in silver, yellow gold vermeil and black rhodium silver; and powerful Sabre bangles, Serpent's Trace neckpieces and jaw-scraping Hook earrings elevated with pavé-set diamonds. Bold and courageous - these are the icons of the future. Give in willingly.

For The Archives
Gift a piece of design history; the
singular line on a curve is a modern classic. First appearing in the Alexander McQueen 1996 show, 'Hunger' - now synonymous with the House of Shaun Leane. Polished silver Talon earrings finished through 360 degrees; yellow gold vermeil Arc bangles with knife-edge execution; Quill and Hook leather wrap bracelets; and new Sabre Deco ceramic contour rings. Carry them home in the Shaun Leane Book. Gifts fit for the archives.
---
Gifts from the House of Shaun Leane
Our Gifts index ensures you make the right choice - always. Every special occasion is unique; we have curated a nuanced selection of pieces from across our ranges that appeal to the individual. Rings that speak to you of love; chokers for those that love the spotlight; and earrings that put the House of Shaun Leane on the map. Celebrate "Love" with Cherry Blossom and Entwined collections; figurative florals, sizzling jewels and fine enamel that pop and fizz against iridescent curves. Make a power play with jaw-grazing Hook earrings and ornate Quill collars with oomph; "Icons" for the spotlight steelers who love to be seen. For the minimalists, it is tactile materials which made our "Archive"; subtle Hook leather wraps and polished silver Talons are modern signatures that never go out of style. For every occasion, for any individual - true original design is worth celebrating.