e-Gift Card
£50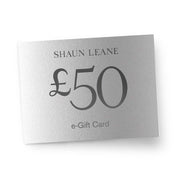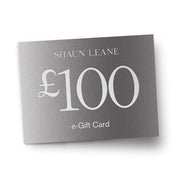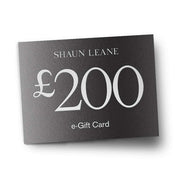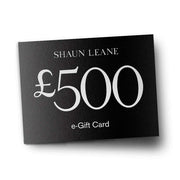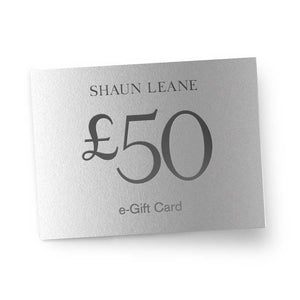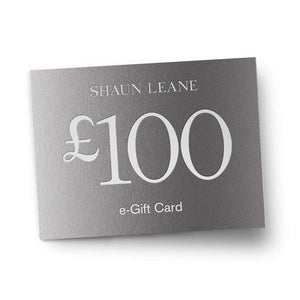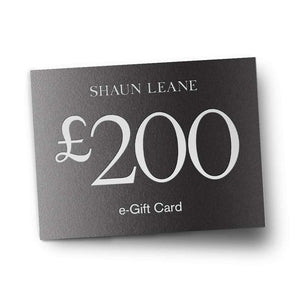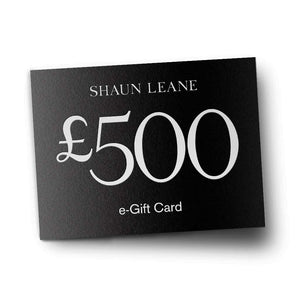 e-Gift Card
£50
Give the Ultimate Jewellery Gift
Give the gift of luxury with a Shaun Leane e-Gift Card. Allow your special someone to enjoy the experience of discovering their next piece of treasured Shaun Leane jewellery.
Each e-Gift Card is emailed directly to your chosen recipient and can be sent and received on the same day – 365 days a year. e-Gift cards can be scheduled for sending up to six months ahead of time along with your own personalised message. If you prefer to gift in person, you may also print out your e-Gift Card. Instantly redeemable at Shaunleane.com or at our Mayfair boutique and valid for 24 months.
Need to check your balance on an existing e-Gift Card? Click here.
Terms & Conditions
e-Gift Cards are valid for 24 months from purchase.
The e-Gift Card is not a credit or charge e-Gift Card.
Shaun Leane e-Gift Cards can be exchanged for products online at shaunleane.com and at the Shaun Leane Boutique at 18 Woodstock Street, London, W1C 2AL.
e-Gift Cards may not be used in department stores, concession counters, for mail order purchases or at independent stockists.
The balance on the e-Gift Card may be used for full or part payment of the GB pounds sterling cost of Shaun Leane products. To check your balance online please

click here

No change will be given but any unused balance will remain on the e-Gift Card and may be applied to future purchases.
e-Gift Cards can be used towards the purchase of goods at a higher price than its face value upon payment of the difference.
The e-Gift Card cannot be exchanged or redeemed in whole or part for cash.
Promotional offers may not apply to e-Gift Card purchases.
No VAT is charged when buying the e-Gift Card, but purchases paid for using the e-Gift Card are subject to VAT.
Keep the e-Gift Card safe and treat it as cash. We will not accept any liability for lost, stolen or damaged e-Gift Cards or for any remaining balance on the e-Gift Card.
If you have made an online payment with a e-Gift Card in whole or part and any item paid for using the e-Gift Card is accepted for return the amount owing will be added to the original e-Gift Card.
For general information about returns and exchanges please click here
We may withdraw or cancel the e-Gift Card and require an alternative form of payment if we suspect that the e-Gift Card may have been stolen or fraudulently used. Further action may also be taken.
We reserve the right to amend or supplement these conditions or discontinue the e-Gift Card at any time.
e-Gift cards cannot be returned or refunded.
+ Delivery Options
| | |
| --- | --- |
| UK Standard Delivery - 3-5 working days (Monday-Friday*) | FREE |
| International Delivery** - 3-7 working days (Monday-Friday) | FREE |
| UK Next Day Delivery - 1 working day (Monday-Friday*) | £9.00 |
| UK Saturday Delivery | £15.00 |
| UK & International Delivery for The Shaun Leane Book** - 3-7 working days (Monday-Friday) | £20.00 |
*Excluding Saturdays, Sundays and Bank Holidays. Orders placed after 3pm on Friday will be despatched on the following Monday (excluding bank holidays).
UK Next day and Saturday delivery (Excludes Northern Ireland and the Channel Islands).
**Excludes Russia.
+ Jewellery Care
Gently wipe the surface of your jewellery with a silver or gold polishing cloth, taking care not to wipe any pearls
Avoid commercial liquid polish or "dips"
Keep your jewellery in individual pouches or within soft lined boxes
Remove rings when washing hands or moisturising, gardening, doing DIY, cleaning, swimming, and exercise
Read more about product care here.
+ Returns and Exchanges
Please find here our full policy.