The story of Shaun Leane - the man, the style, the brand - is poignantly held here, in our Visionary Archive; encapsulating the impetus of his collaborative work with Alexander McQueen - that enabled Leane to break his own rules and trailblaze an individual style of modern romance. Leane's imagination shaped a unique view of the world; this was the beginning of his visionary career, and the dawn of the House of Shaun Leane; a period of enormous growth for him personally. A landmark of what was to come in size and material, the challenge was a paradigm shift from goldsmith to silversmith, meaning bigger tools, larger scale.  
Leane pushed the perimeters of the unexpected in the jewellery industry through his use of materials. Pieces that were perforative, emotive, iconic - a body of work that has sensitivity, beauty, undeniable glamour. His refusal to compromise produced some of the most breathtaking moments in modern art history.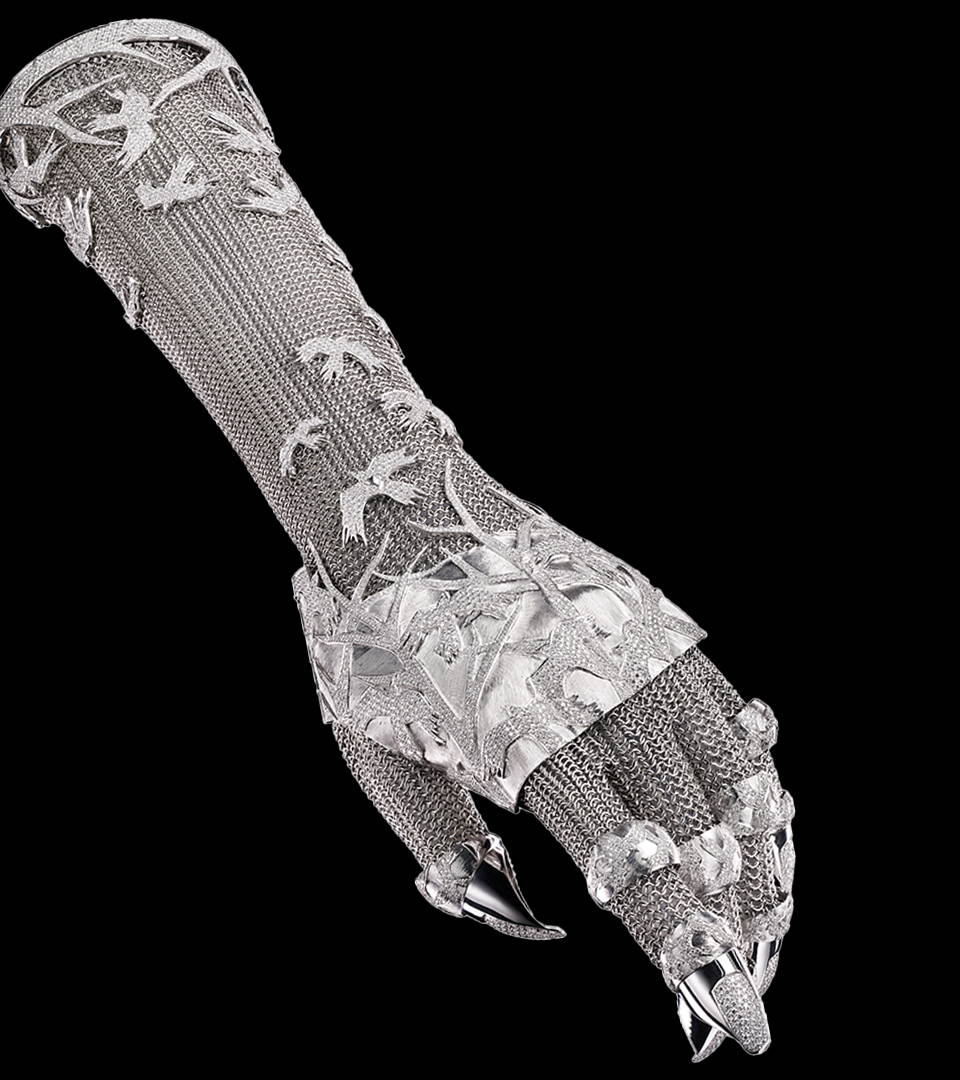 Diamond Evening Glove - created for Daphne Guinness, 2011:
18ct white gold, 70ct of diamonds

Aptly named Contra Mundum, meaning defiance against the world, Shaun Leane's diamond evening glove is a feat of technical mastery. The white gold chain-mail glove, made for Daphne Guinness, took over 1,000 grams of white gold, 5,000 pavé-set white diamonds and 17 goldsmiths, five years to make. Each link of chain-mail was hand soldered. It meant Leane having to question his traditional training; fashioning a glove from gold, to a couture silhouette, simply hadn't been done before.
Fearlessness to push boundaries can leave one open to criticism. But Leane was propelled by the belief that visionary jewellery shouldn't be restricted by its materials. His pieces with McQueen had been formed from whatever materials were needed to portray their concepts.
Leane's intention had always been to challenge conventions within high jewellery. He moulded rubber to perfectly fit Daphne Guinness' arm, including finger joints, knuckles, even nails, to make the cast. Diamond-set birds were designed to fly freely over the chain-mail, and up Daphne's elbow. Leane states, "Birds are unified creatures. They flock together, in a freedom of movement, creating shape formations to warn off predators."
Leane's signatures are all present here; melding masculine with the feminine; flora and fauna; jewellery as armour; and old-world romance. Cartier congratulated him personally, calling Contra Mundum "remarkable". Launched at the White Cube gallery, Whitechapel, by contemporary art dealer, Jay Jopling, it was purchased by Lady Gaga, at Sotheby's, NY, in 2017.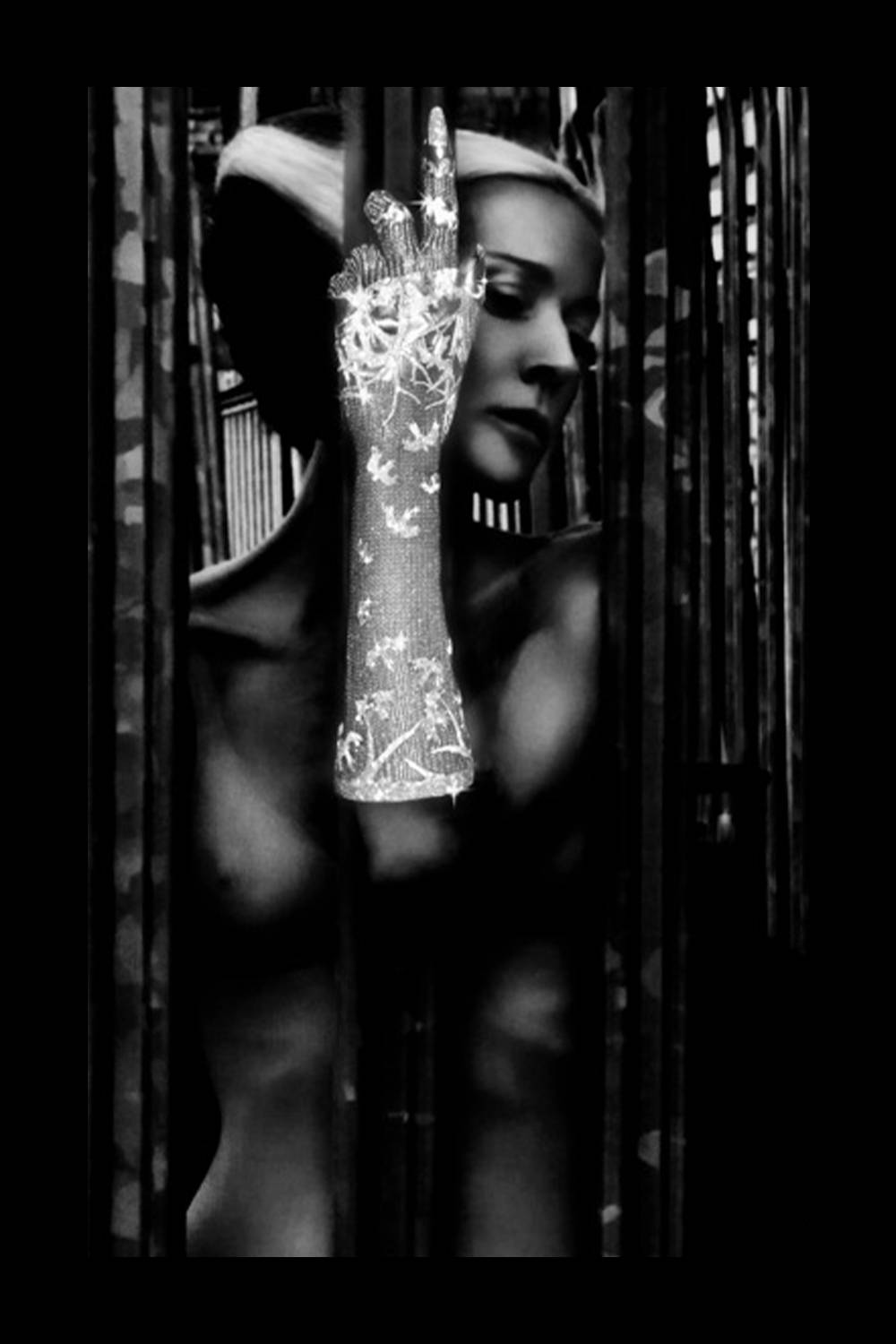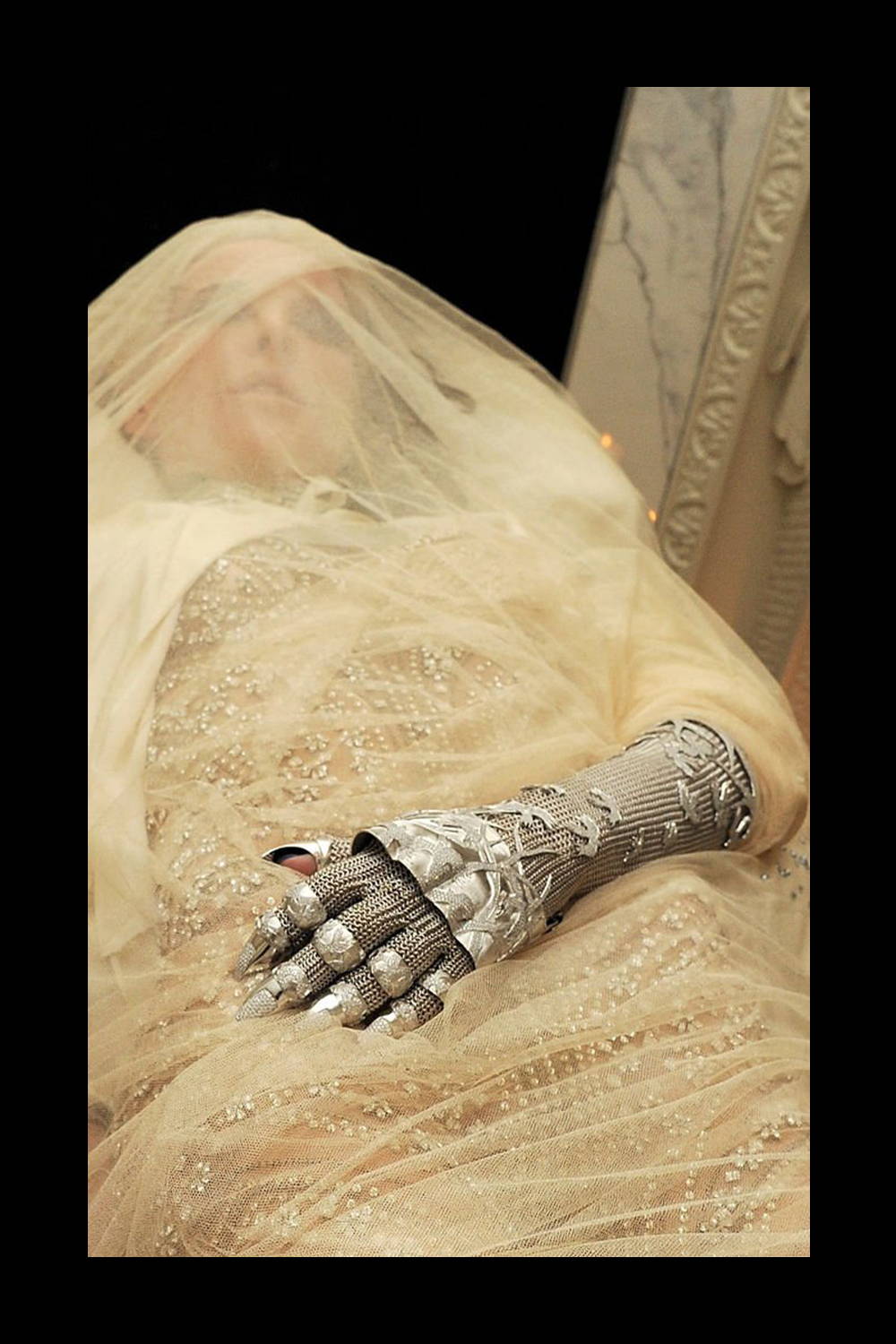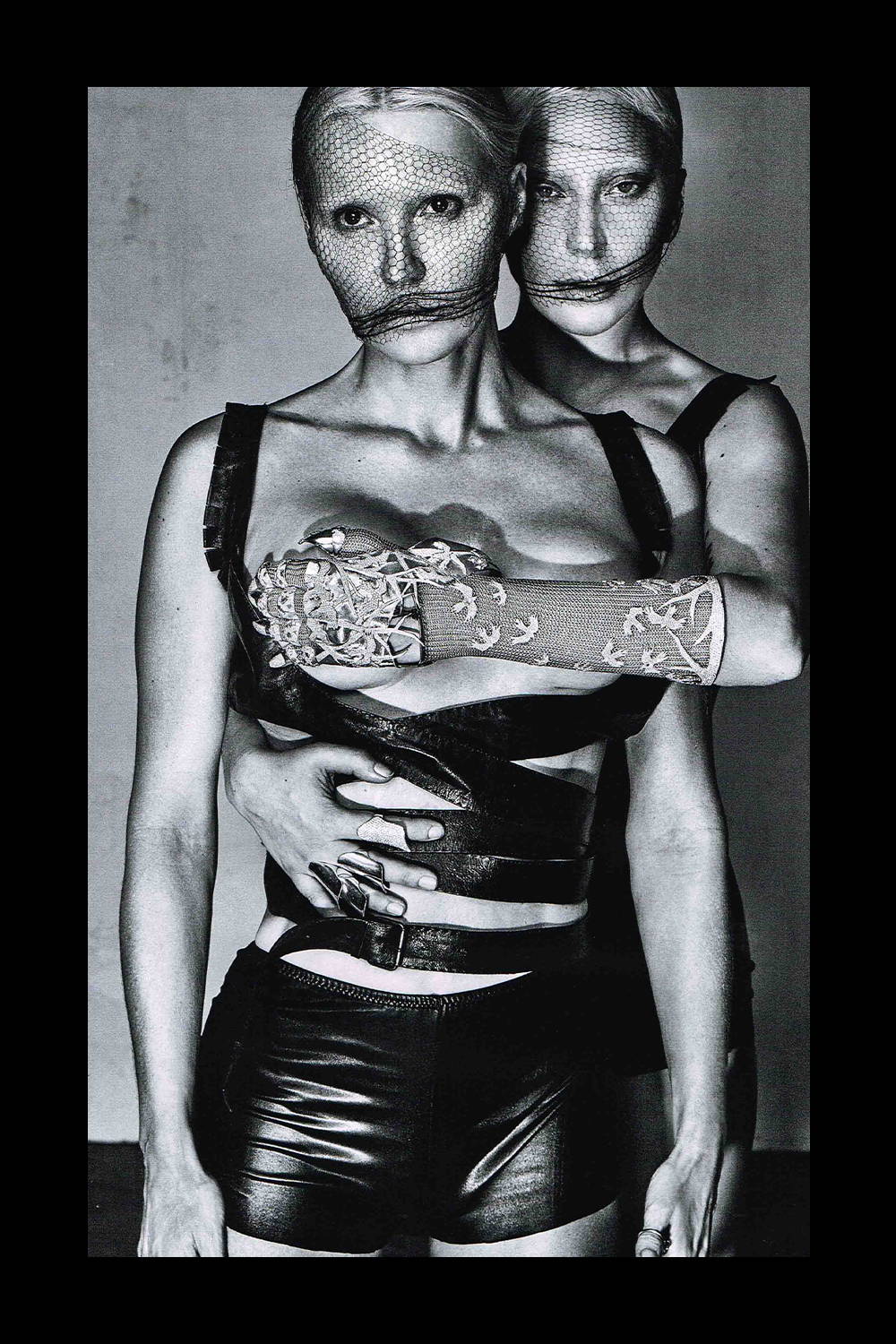 2018: sterling silver, black diamonds, white diamonds

The Quill Anklet is inspired by Shaun Leane's first-ever bespoke commission from the late Isabella Blow. This is the piece which launched the House of Shaun Leane in 1999; Shaun took a Victorian aesthetic, in the form of the anklet, and made it echo of now. The Quill, a double-pointed line on a curve - sharp to a knife-edge, yet refined - is one of Leane's signature silhouette. Blow commissioned her bespoke piece after seeing Leane's work in collaboration with the legendary Alexander McQueen whose SS'96 show, Hunger, took place at London's Natural History Museum.
Leane placed handcrafted silver stag horns on the model's, thus beginning the story of his elegant yet dangerous curves. In 2018, Leane took his original idea for Blow and pavé set his "high" version, Quill Anklet, touch-lit by echoes of light and shade with symmetrical lines of black and white diamonds cascading downwards; a formation of the old and new guard. This piece is designed to move in harmony with the body, as sterling silver spikes perforate outwards and away from the leg. The silver-pointed spur fastening at the back completes its subversive beauty.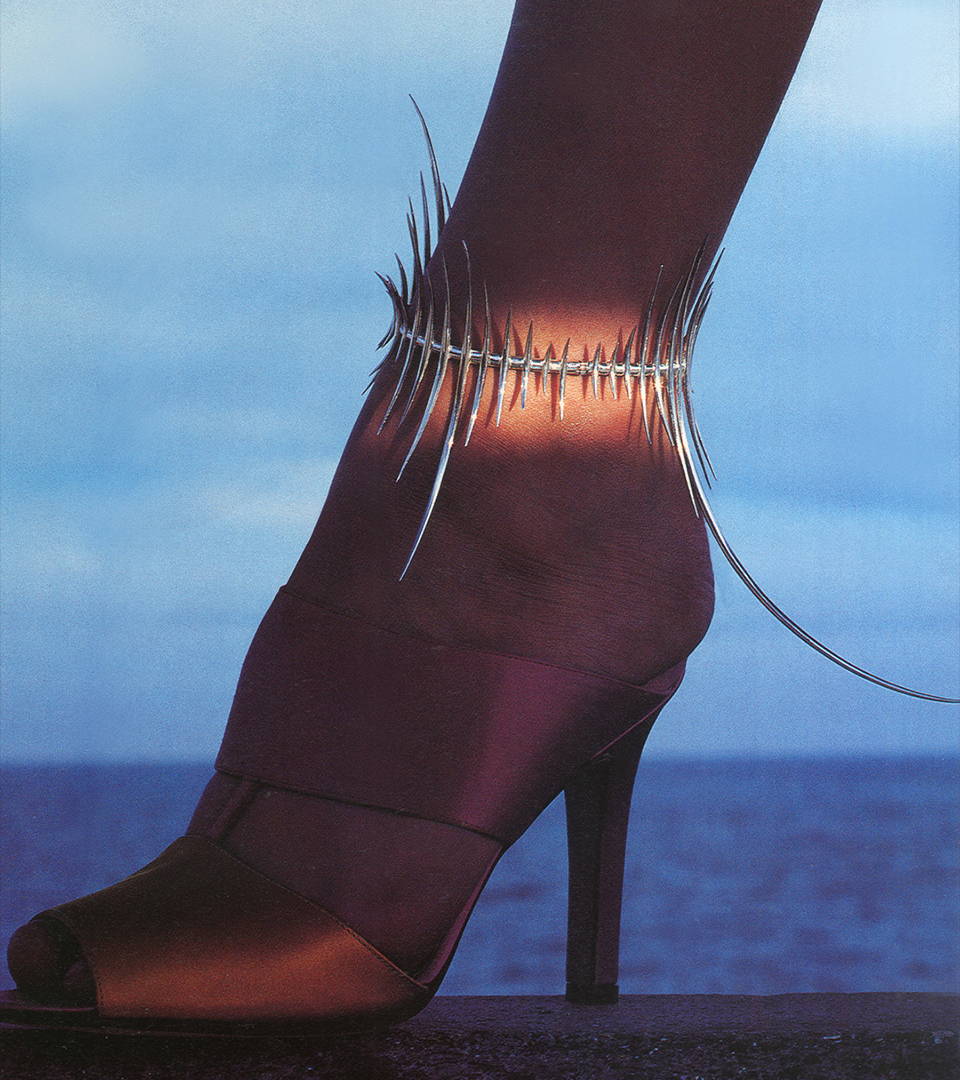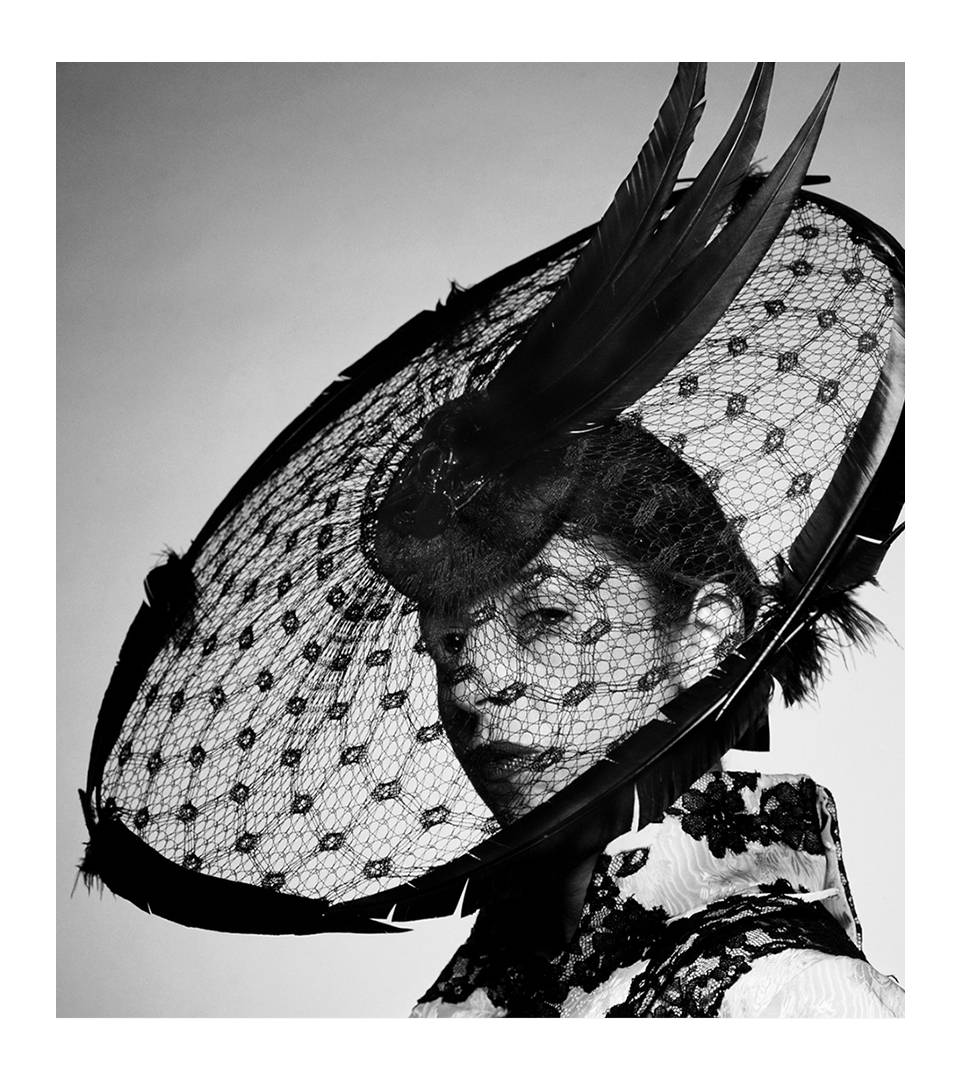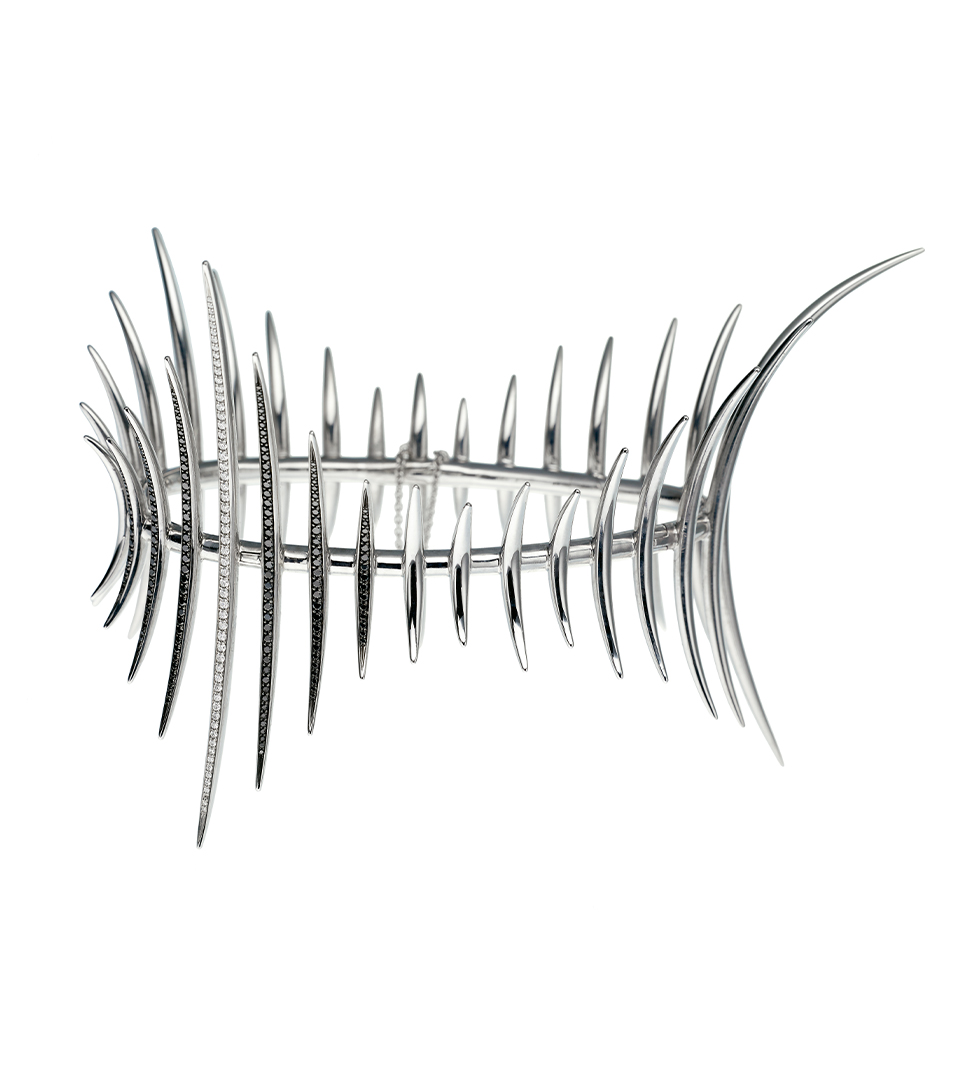 2020: hand-forged sterling silver

Arm Vine sees Shaun Leane as storyteller, as romantic, as creative force. Entangled, thorny stems, hand-forged in silver, weave up the arm of the wearer; a visceral homage to nature when worn as protection from the outside world. Inspired by a similar work made personally for his late friend and collaborator, Alexander McQueen, the idea for Arm Vine germinated from their shared boyhood experiences of playing with nature, in particular, rose thorns, to adorn their childhood bodies in a fairy tale whimsy.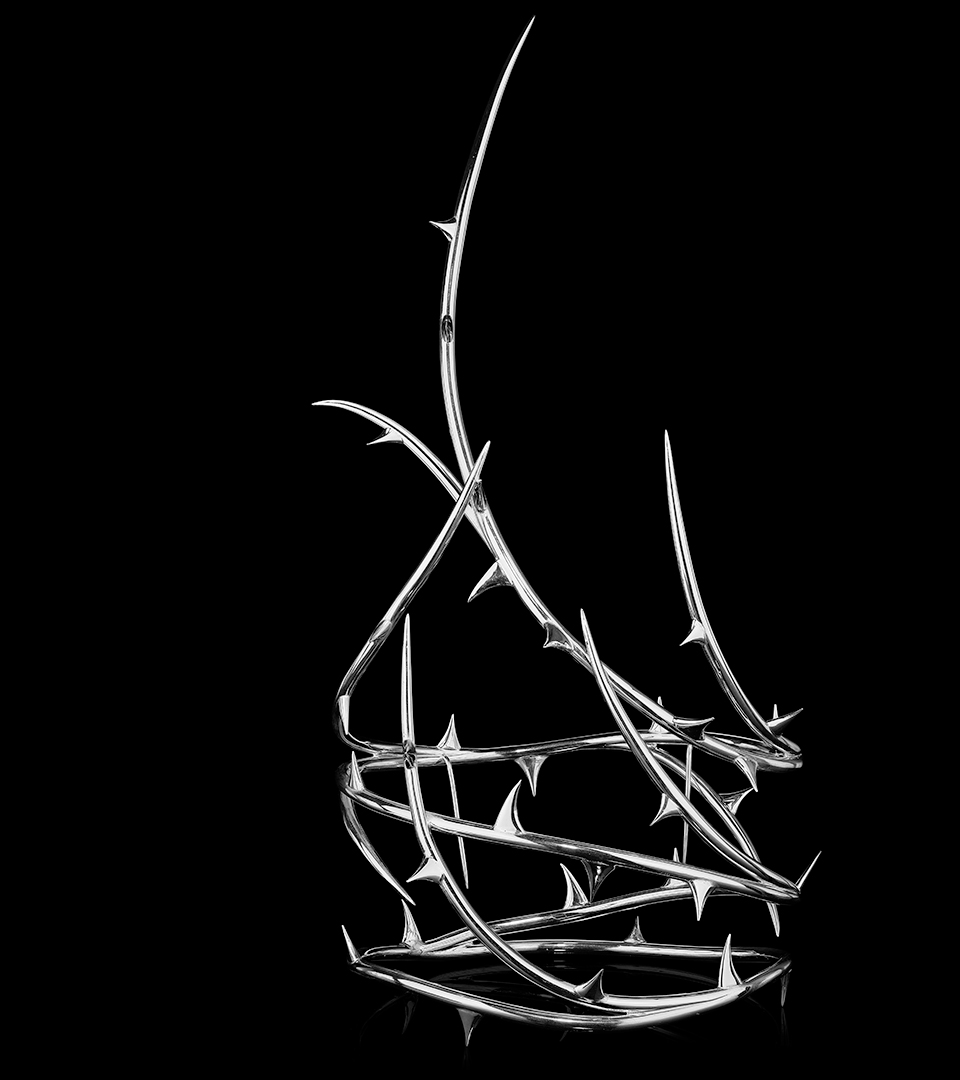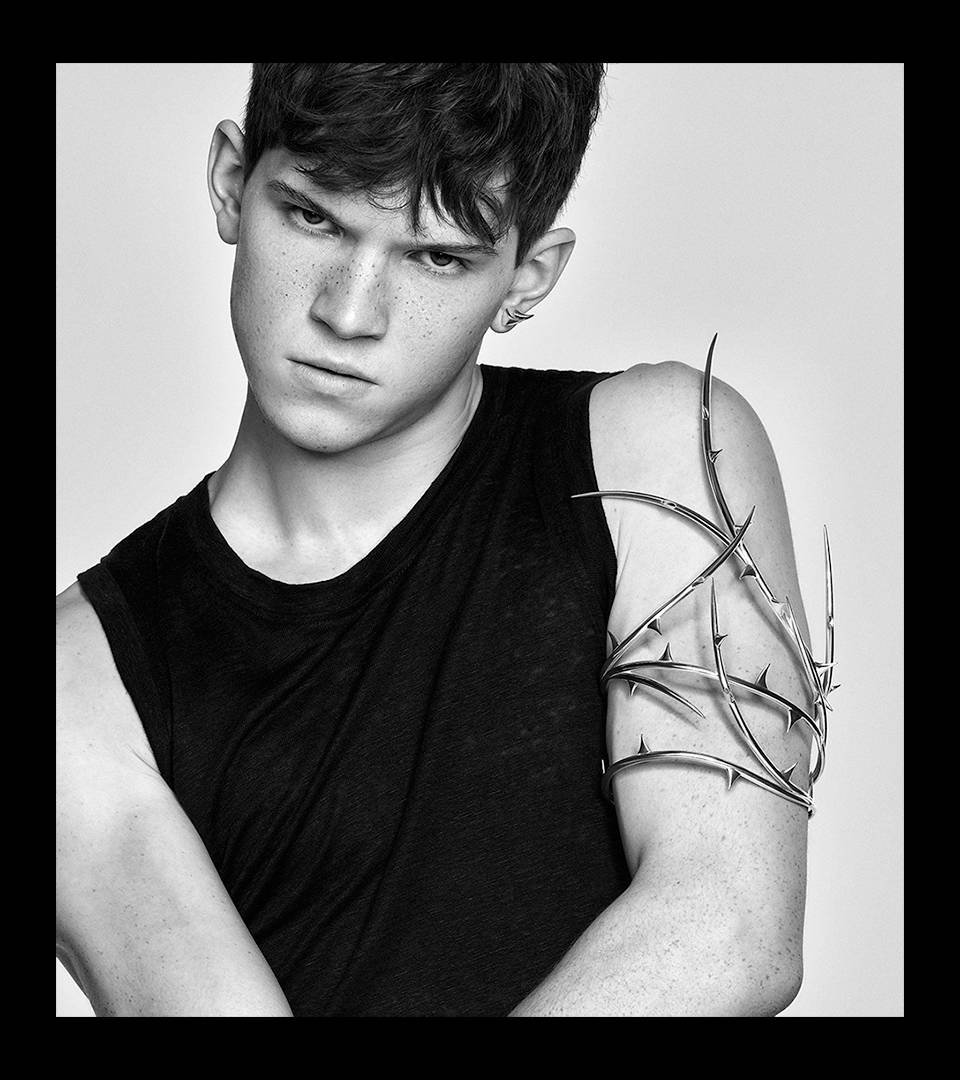 Fluid and elegant in form, but sharp and abstract as a concept, Arm Vine, when worn, materialises as bejewelled armour. It is designed to sit on the outside of the garment - like a coat of arms, or a silvered protector to the wearer - making it a unique and original approach to contemporary jewellery.
Arm Vine plays beautifully with negative space; in Leane's story telling, it is never the bloom of the flower that gets top billing - stems, branches, and thorns alike feature as much in the romance and convey a dark mystery of the world.
Created for Alexander McQueen & Givenchy Haute Couture 2000:
sterling silver

In the months preceding Alexander McQueen's Givenchy Haute Couture debut in January 2000, Shaun Leane and McQueen sat in The Eagle pub, in London, sketching on to the back of a serviette what would become their pièce de résistance; Rose Corset, a gothic-inspired, galvanised bodice fashioned entirely from sterling silver.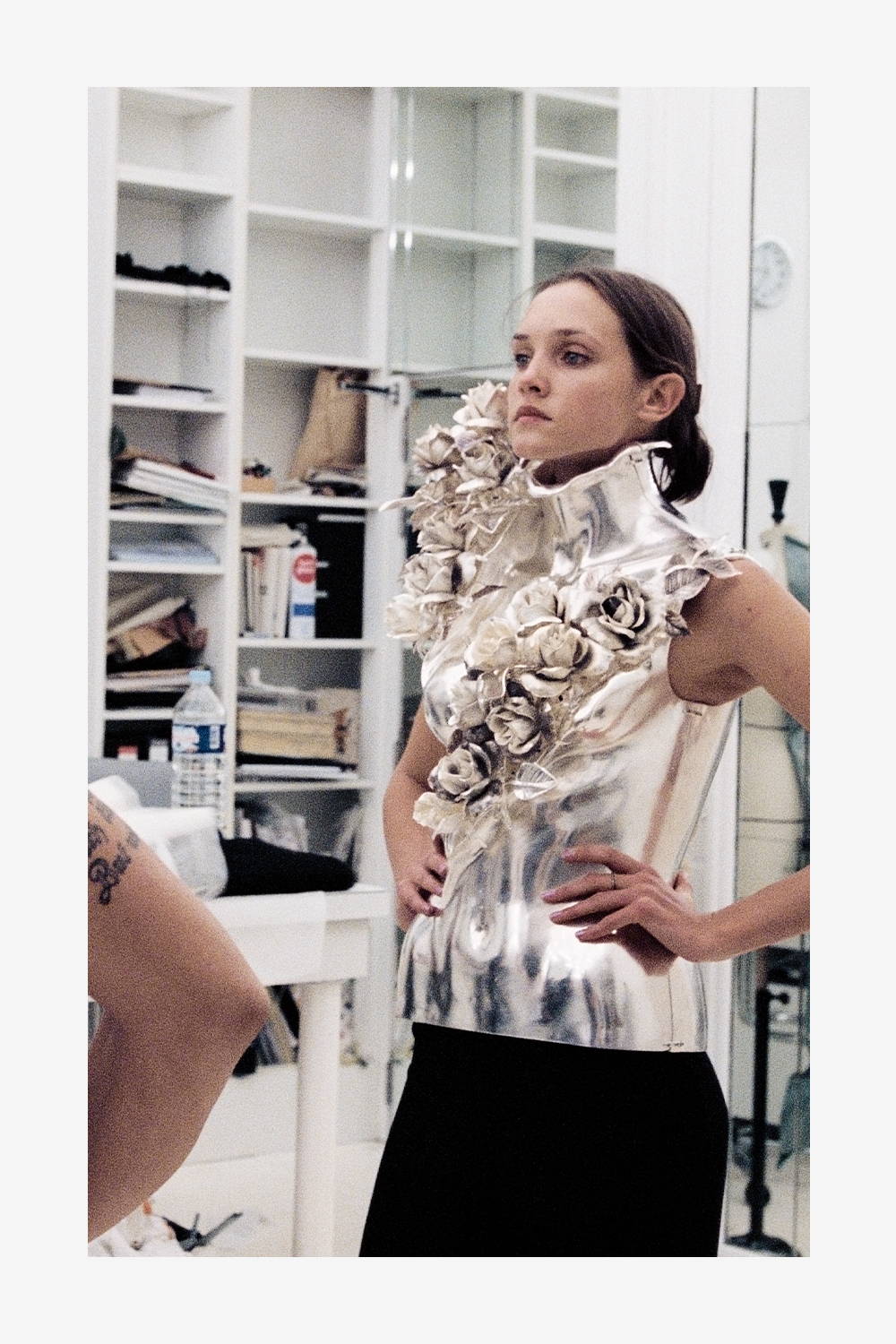 Unlike Leane's previous corseted runway constructions, Rose Corset's sinewed curves recreate the contours of the model's breasts and torso, elevated to a metallic second skin; a juxtaposition between flesh and metal.
Echoes of London and Paris are in the hard and soft; the solid exterior that implies a gentle sensitivity within; flashes of silver roses bloom from ruptured gashes on the surface - an explosion of femininity and passion.
Balance is in the romance with the macarbe; the gentle heroine and the silver-boned robot. For a master jeweller such as Leane, such futuristic vision is underpinned with a sense of 19th century lyricism that makes the pieces tender.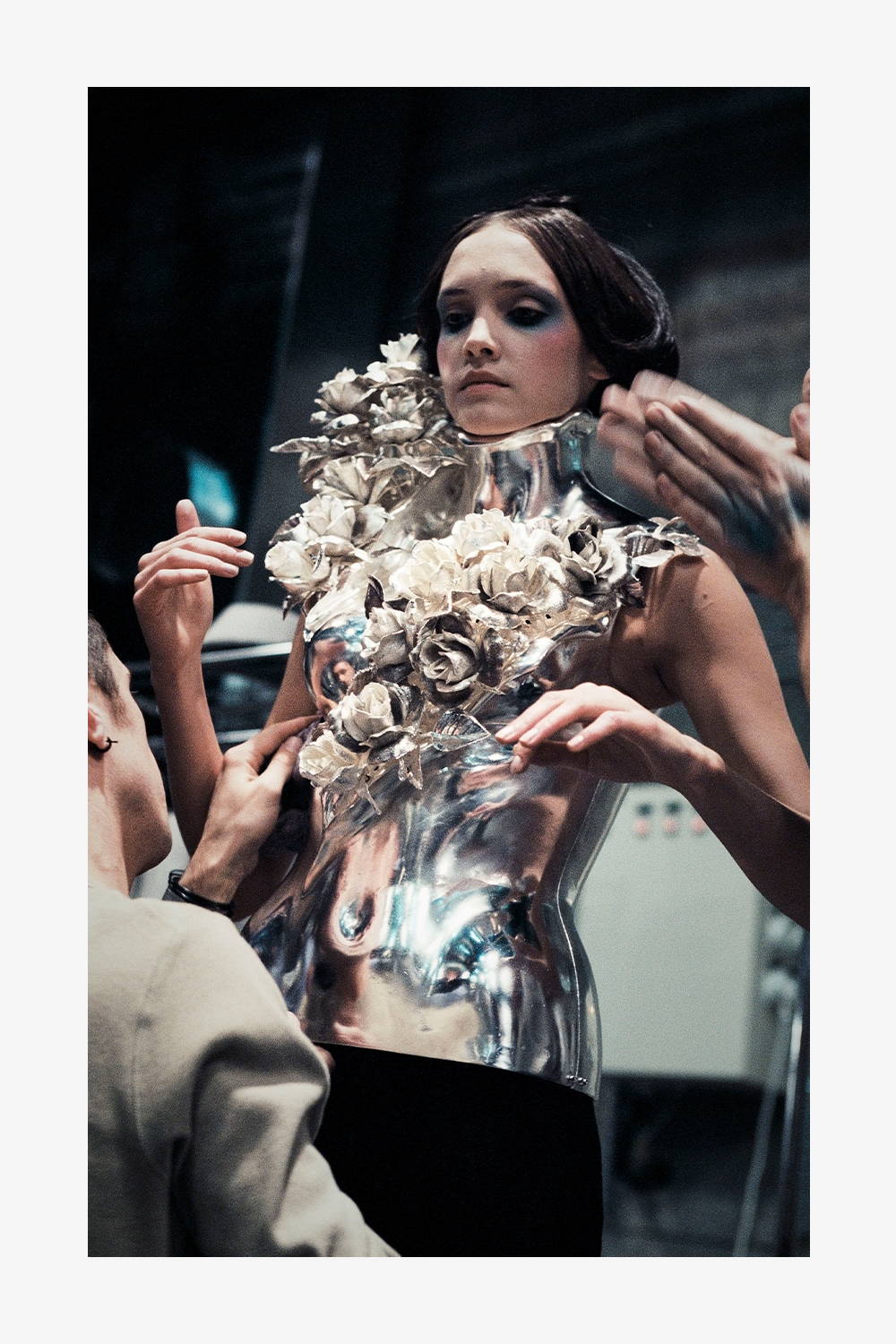 Created for Alexander McQueen The Overlook, AW'99:
hand-forged aluminium rods

In 1998, on the back of his work for the cover art of Bjork's '97 album, Homogenic, Leane had become entranced by global cultures, in particular, Burmese tribal women from Southeast Asia & their body armour. In conversation with McQueen, Leane felt challenged to create a piece that covered not just the neck, but the entire torso, down to the hips - a whole-body adornment; to exceed his own expectations.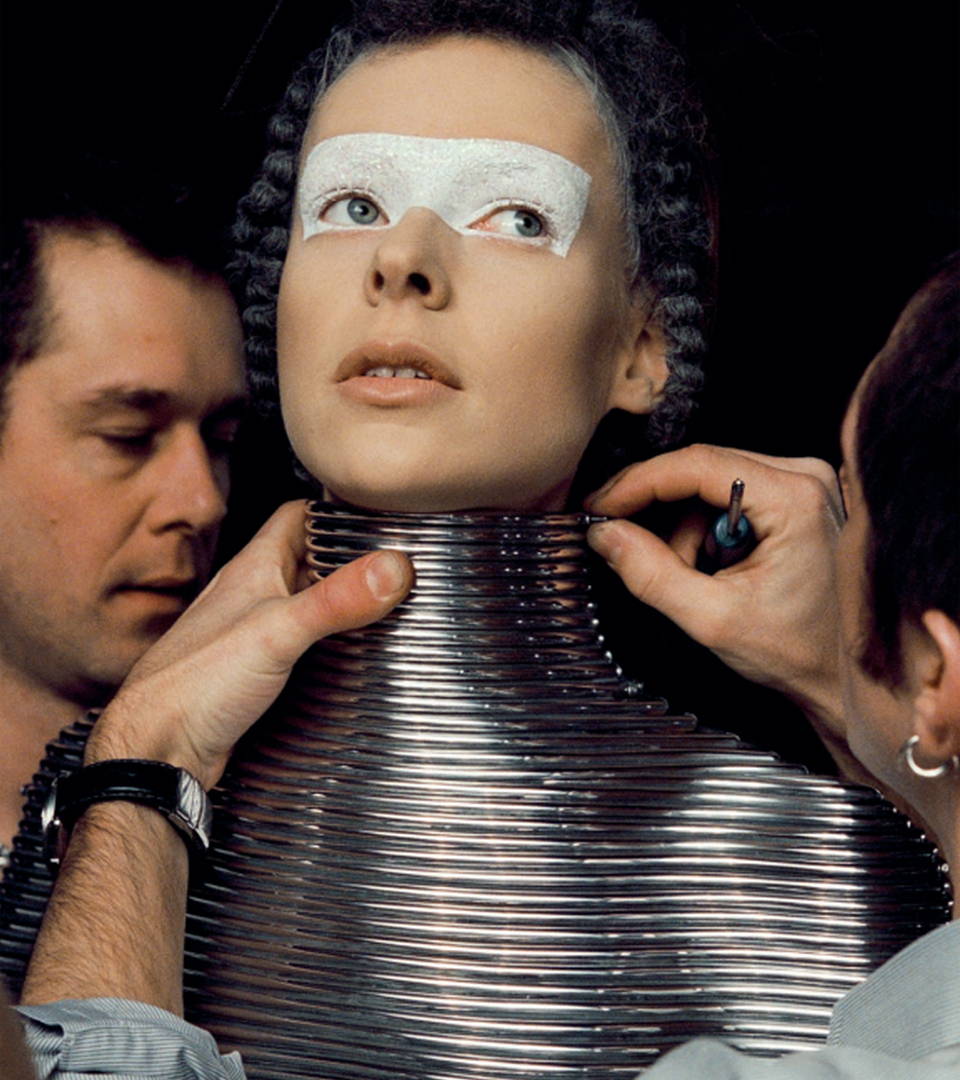 For 16 weeks Leane lived in his workroom, moulding, bolting. It was these collaborative efforts with McQueen that underscored Leane's emotional connection to his work. Leane and McQueen had their own deep-rooted attachments to individual pieces; Coil Corset is the only work from the archive to be signed by both artists. Their accumulative creativity depended on the felt tension between darkness and the light; the heft of the material, and the softness of the model's silhouette; between combat and self-protection, in the brass coils of the women of the Kayan Lahwi tribe.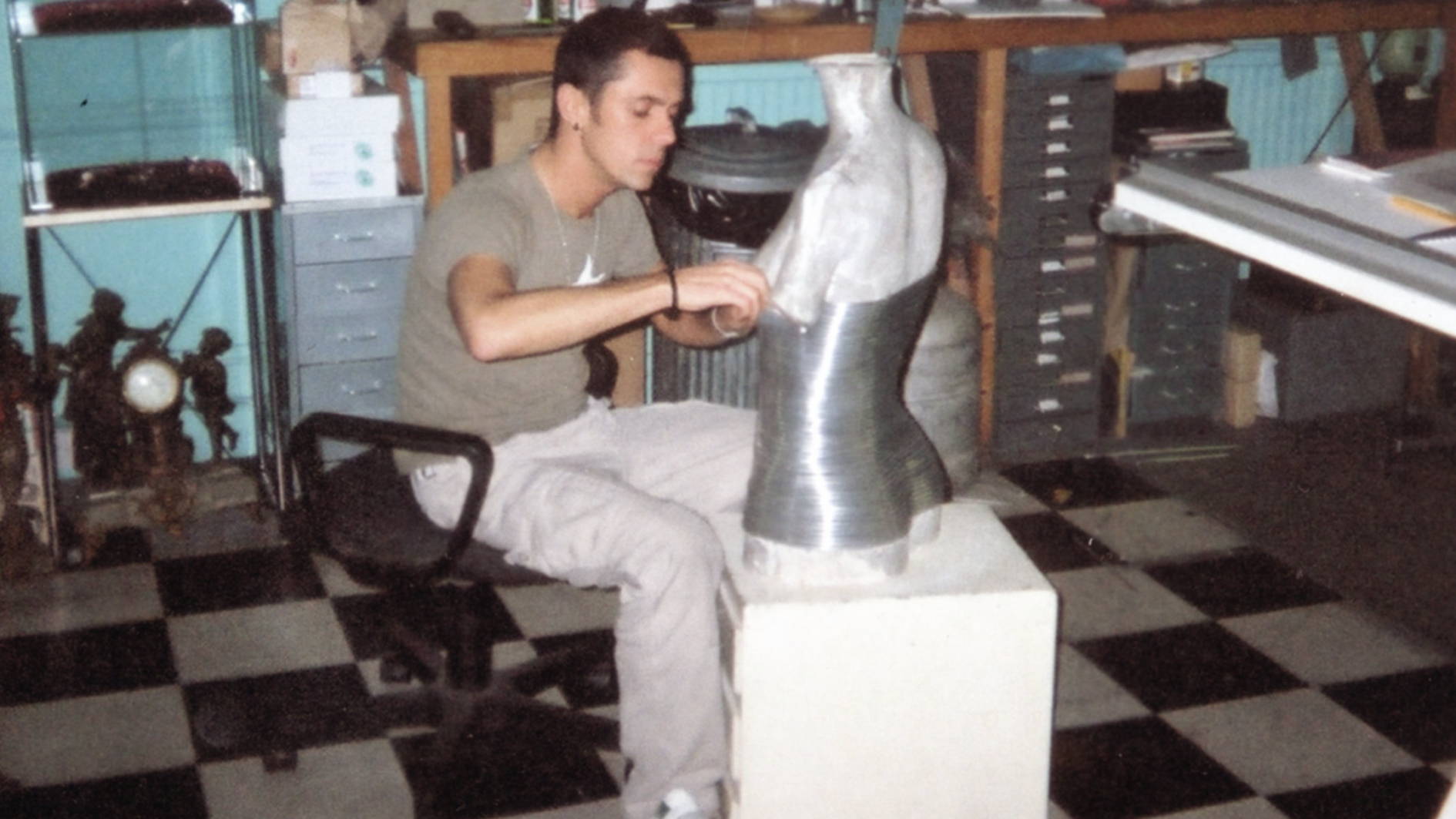 Created for Alexander McQueen Dante, AW'96:
sterling silver

Early in his trajectory, Leane's work with McQueen saw him shift from goldsmith to silversmith. Pieces for the shows were of a larger scale than the micro-focus his traditional training had him follow; sizes were bigger, themes even more so. Thus, Crown of Thorns was remarkable in its delicacy and detail; without diminishing any of its impact on the runway.
Made for Alexander McQueen's 1996 show, Dante, Crown of Thorns became the focal point; in glistening silver, it was a statement of passion, decorum. Leane, the Irish Catholic, was paying homage to his own religion through grace. His objective was a simple one; to make a beautiful body adornment. He recalls, "I just wanted to make jewellery that took people's breath away."
Such powerful religious symbolism paid tribute to reverent themes in Dante; a collection which honoured creative heroes, masters of the arts - shown in a candle-lit church in Spitalfields, East London. Crown of Thorns later formed part of the permanent collections of the Metropolitan Museum of Art, New York.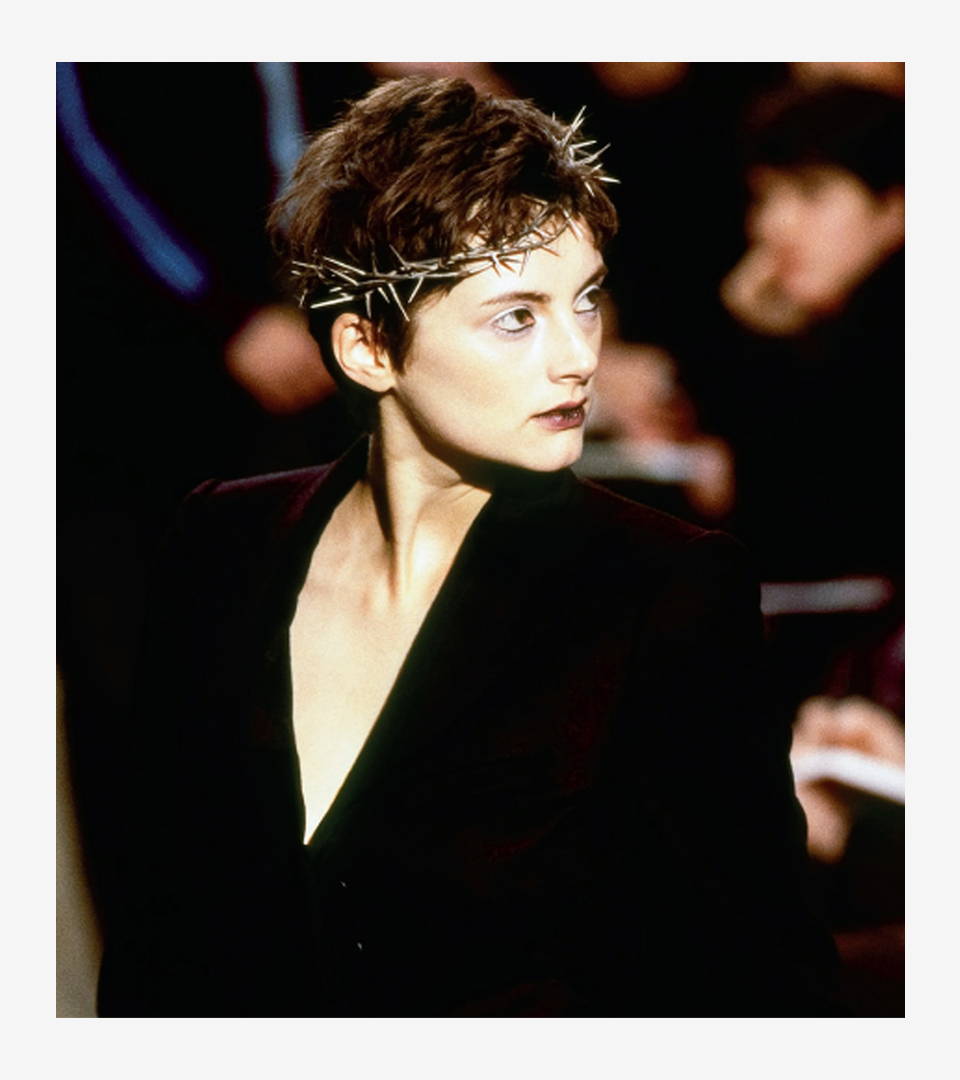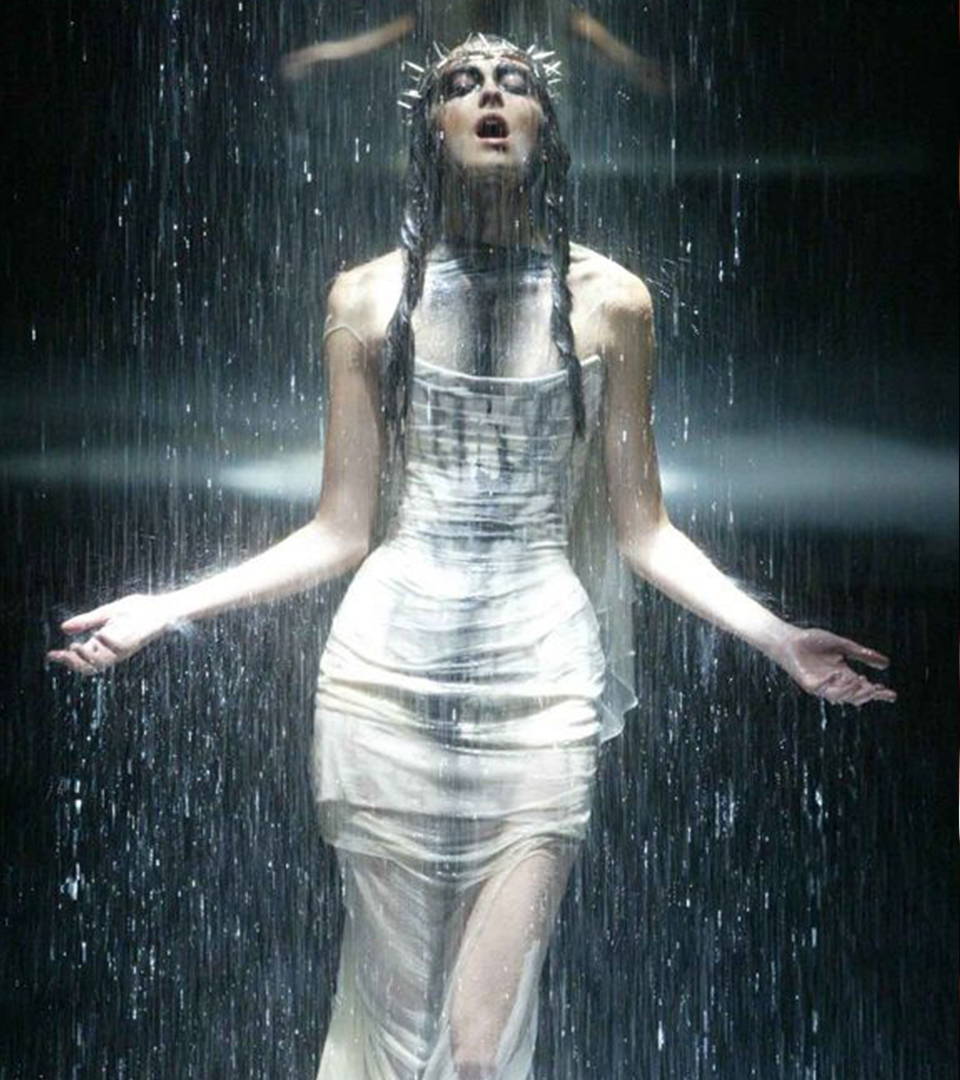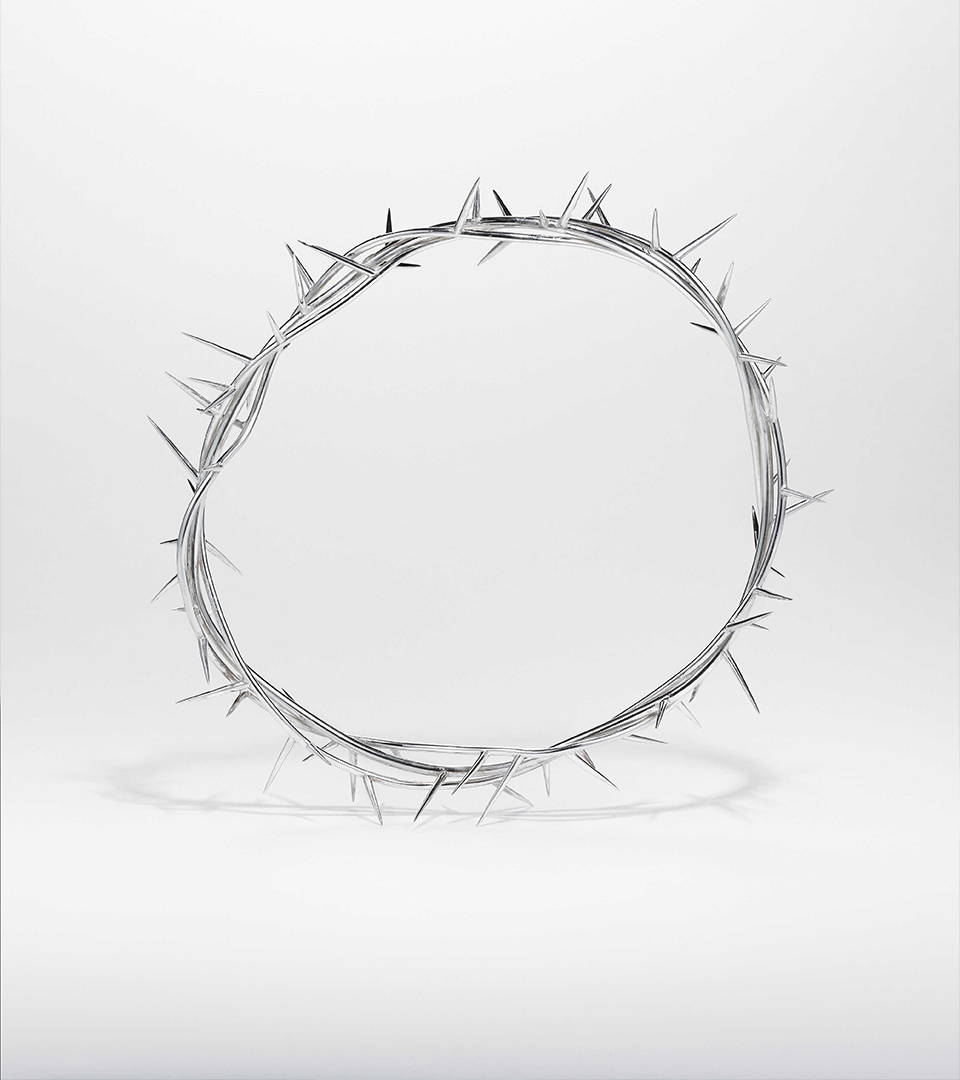 Created for Alexander McQueen La Dame Bleue, SS'08:
hand-forged aluminium rods

Grille Collar is Shaun Leane the artist - in the abstract. Unlike earlier corsets and neckpieces that contoured the figure, Leane challenged himself to explore the negative space around the model; as a jewel had never been worn before. A metal grille comprised of 15 aluminium tubes, forming a visor-like linear structure, it appears as if suspended above the body.
Grille Corset poses the idea of jewel and dress being locked in a mirror image. Leane's symphony of symmetrical lines echo the severity of McQueen's sharp shoulders, and fine-boned corsetry; but hover above, never touching flesh nor fabric. Instead, the metal frame envelopes the torso, seamlessly becoming part of the garment.
Alexander McQueen's 2008 show, La Dame Bleue, was an homage to their late friend, Isabella Blow, and she is conspicuous in many of the details; jewellery as performance art and self-protection; the obscuring of the model's face, as seen with Blow and her infamous veils and hats. Grille Collar creates the sense of an optical illusion, achieved by a hidden harness around the waist, under the garment; something which speaks to the essence of Blow.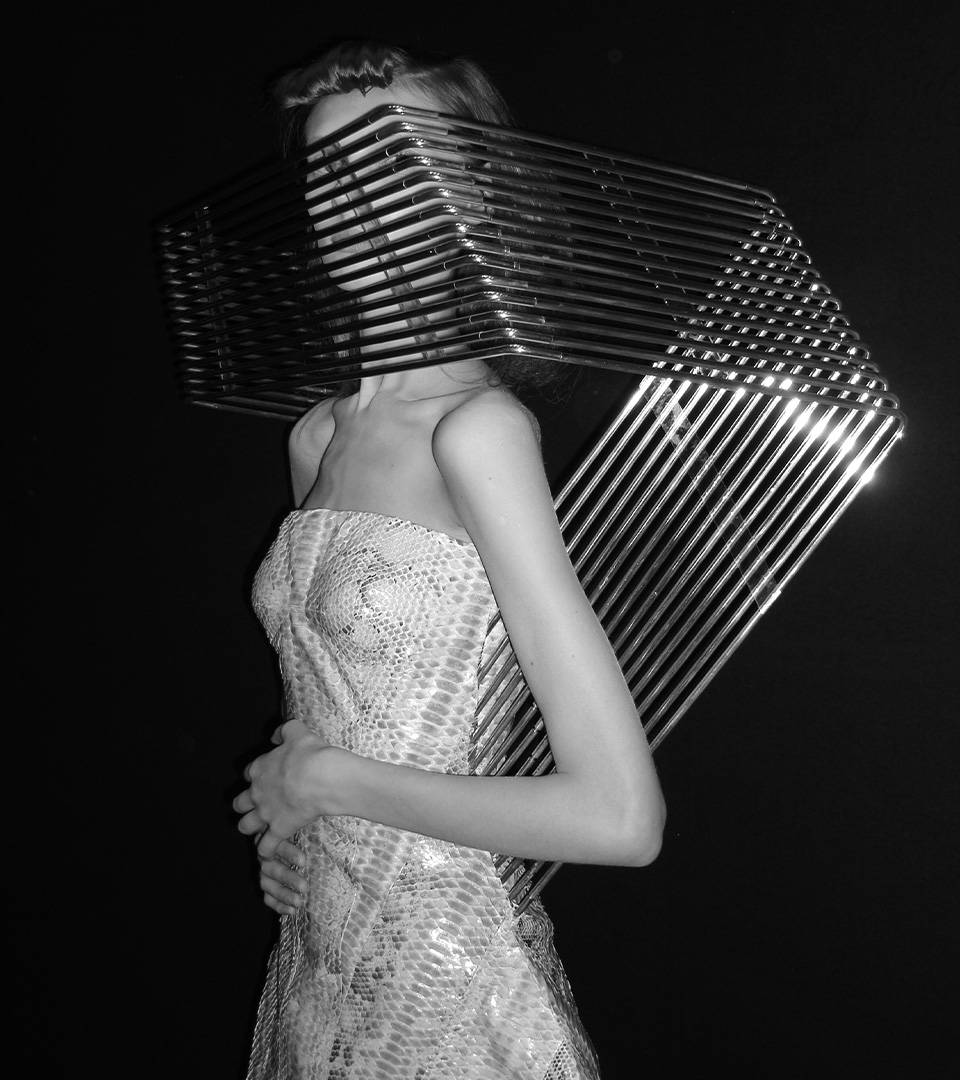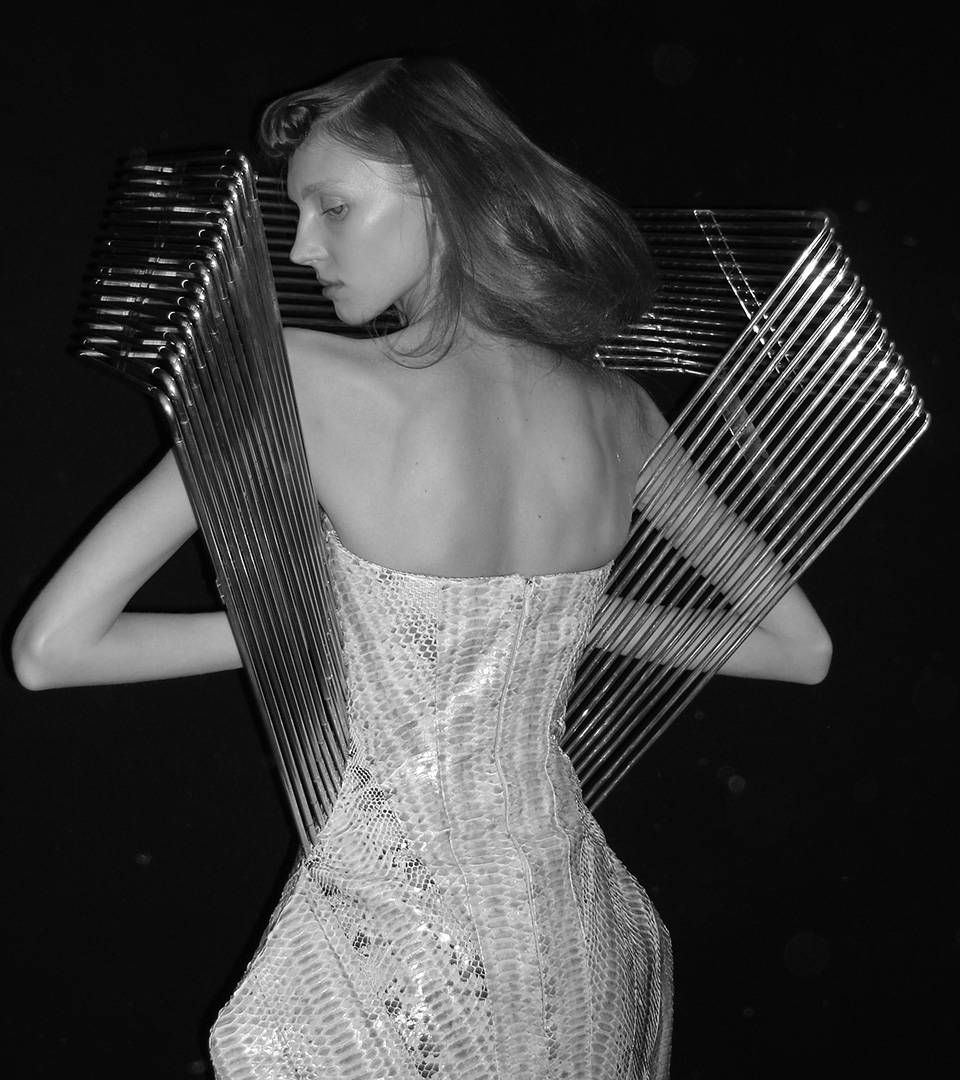 Created for Alexander McQueen Untitled, SS'98:
aluminium

In preparation for Jawbone, Leane studied two real human skeletal jaws - a male and a female. The result was this mouthpiece crafted from aluminium and fitted to his own jaw. The appearance suggests that the wearer's skin and flesh has been stripped away, leaving the jawbone and front teeth exposed.
Combining avant-garde with the practical, oversized hooks fasten around both ears like an anatomical instrument. It's this uneasy fascination with hybridity and with the uncanny that made Leane the perfect sparring partner for McQueen.
Jawbone was central to Alexander McQueen's SS'98 show Untitled, Spring/Summer; the statement was a subversive one. McQueen played with Savile Row traditions, Leane spun in the surreal. Ann Ray's iconic backstage photographs reveal crowded models like slick-haired skeletal robots, wielding Jawbones, dressed in Prince of Wales checks.
It's within the gaps that Leane thrives; the juxtaposition of flesh and metal; melding science with fantasy; contrasts of shade and light. The unseen is what is celebrated; our human skeletons as an inconceivable force.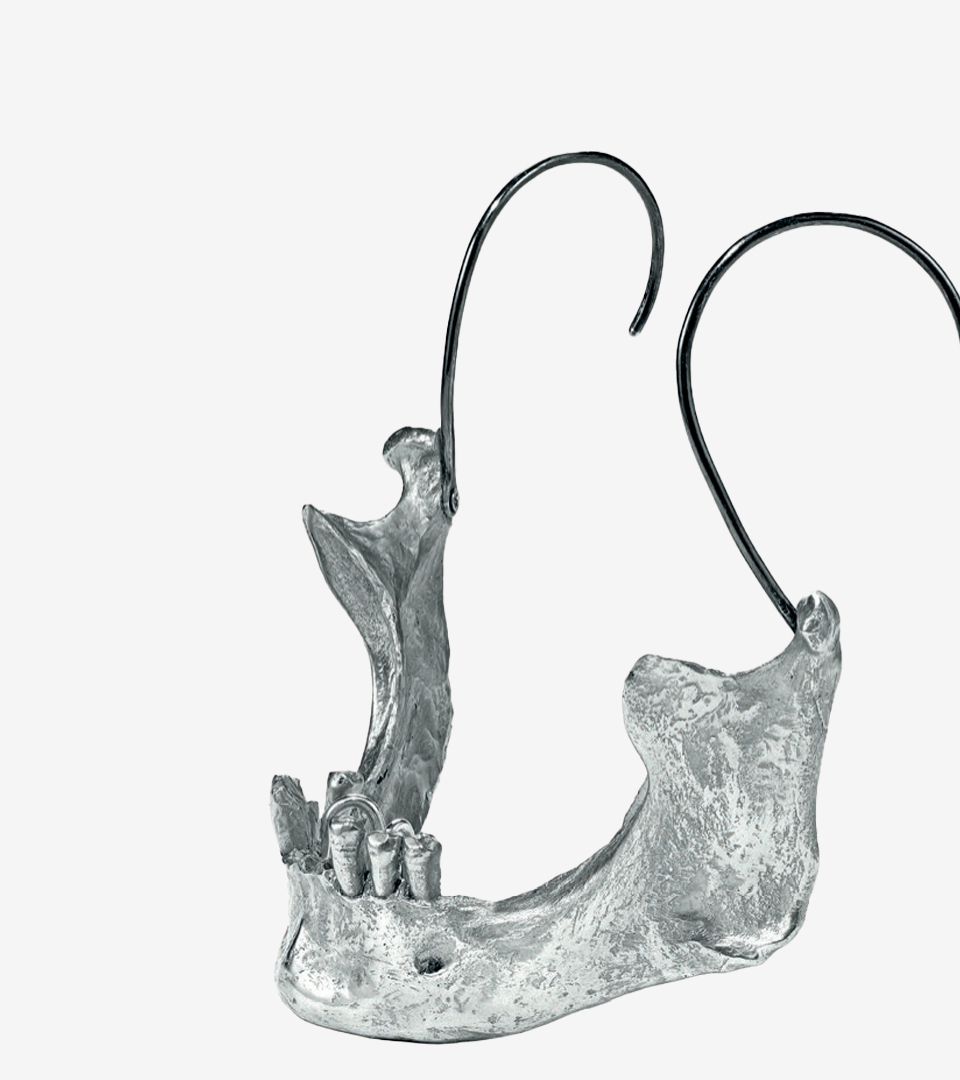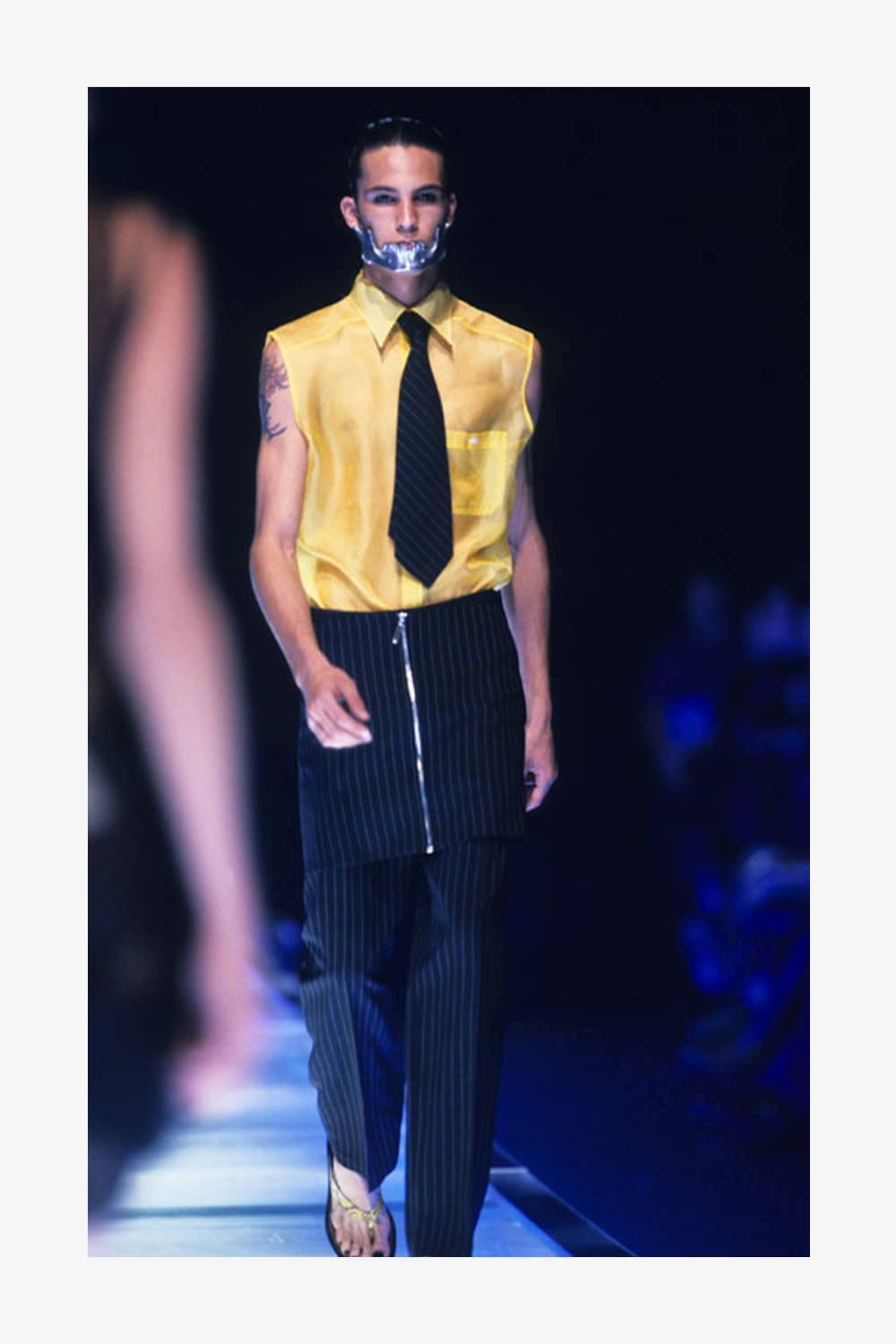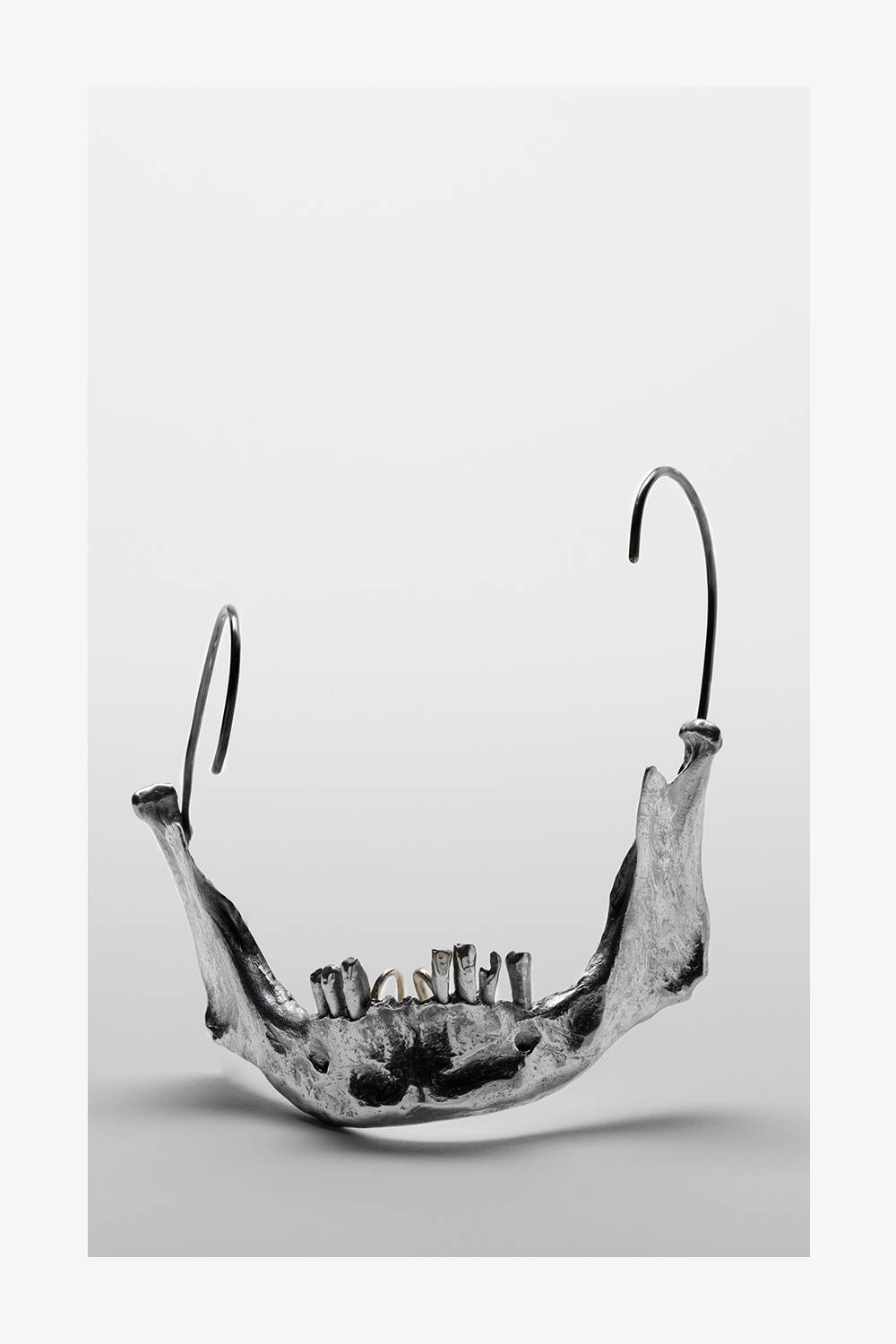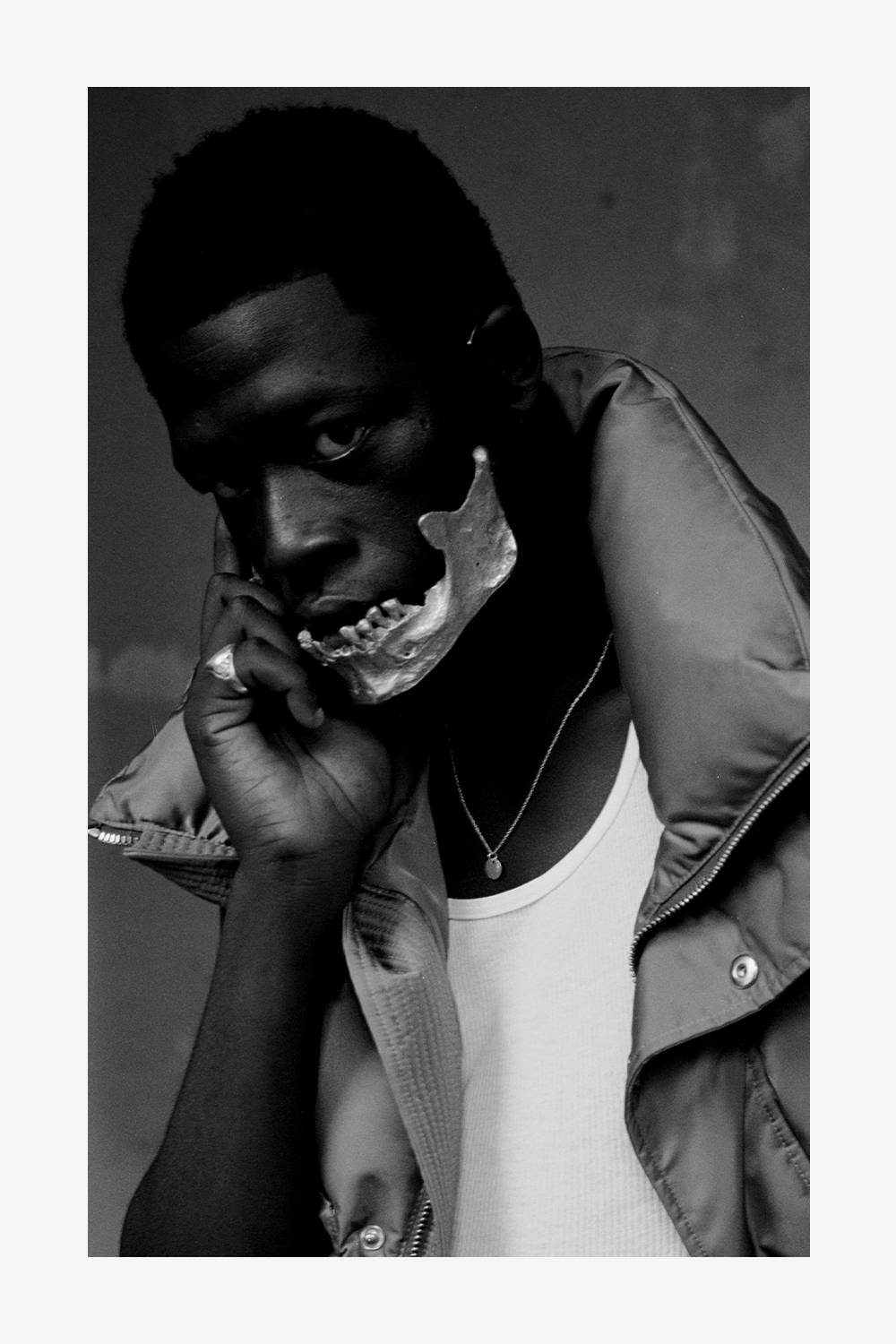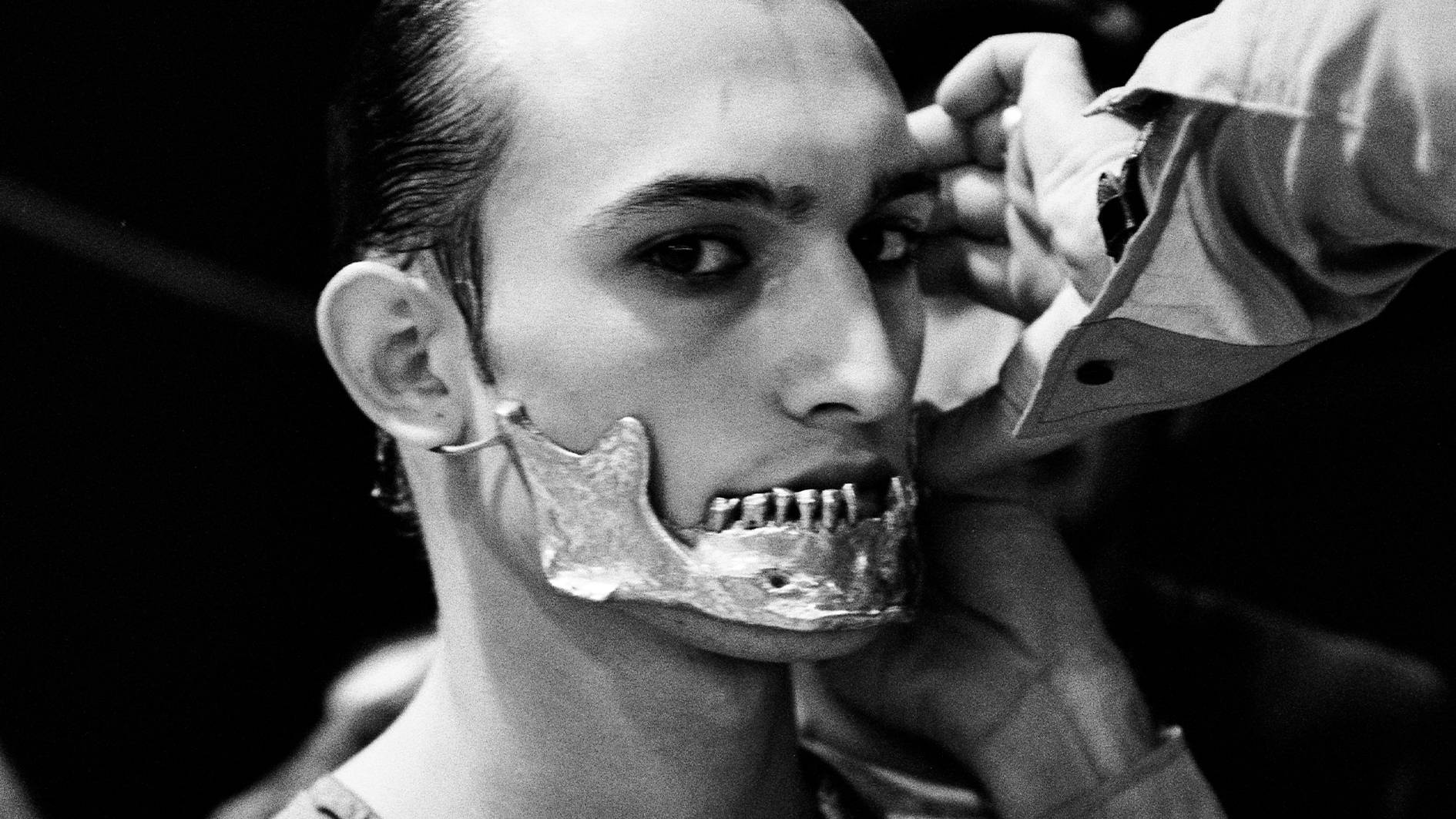 Created for Pat McGrath, 2019:
18ct yellow gold vermeil

Quill Choker is Shaun Leane's 18ct yellow gold vermeil couture choker, made for Pat McGrath in 2019. The fashion legend was set to launch her make-up line Pat McGrath Labs at Selfridges, and asked a few familiar friends to collaborate for the event; Christian Louboutin, Maria Grazia Chiuri from Dior, and Shaun Leane. Shaun looked to his body of work and took a signature silhouette - his porcupine quill - and magnified the scale. The result is the striking Quill Choker; an organic movement of tenuous curls.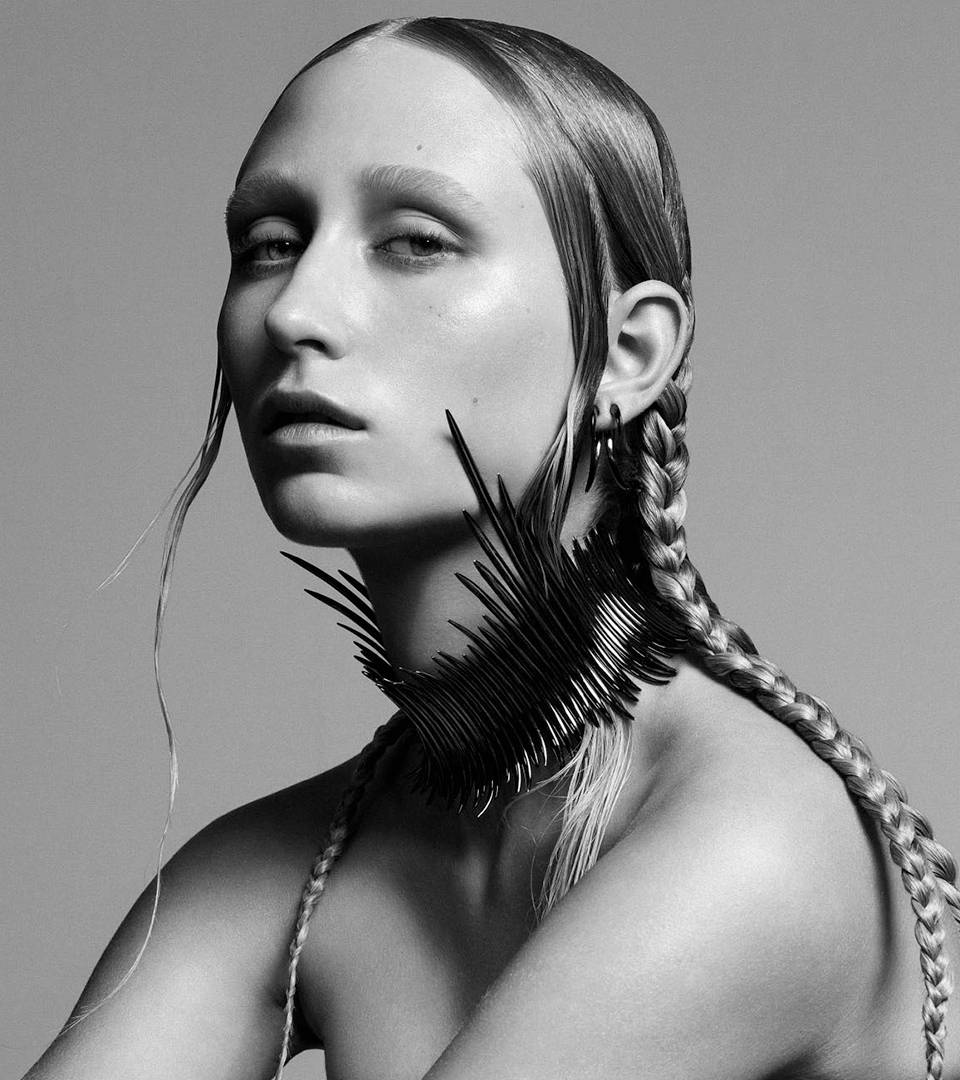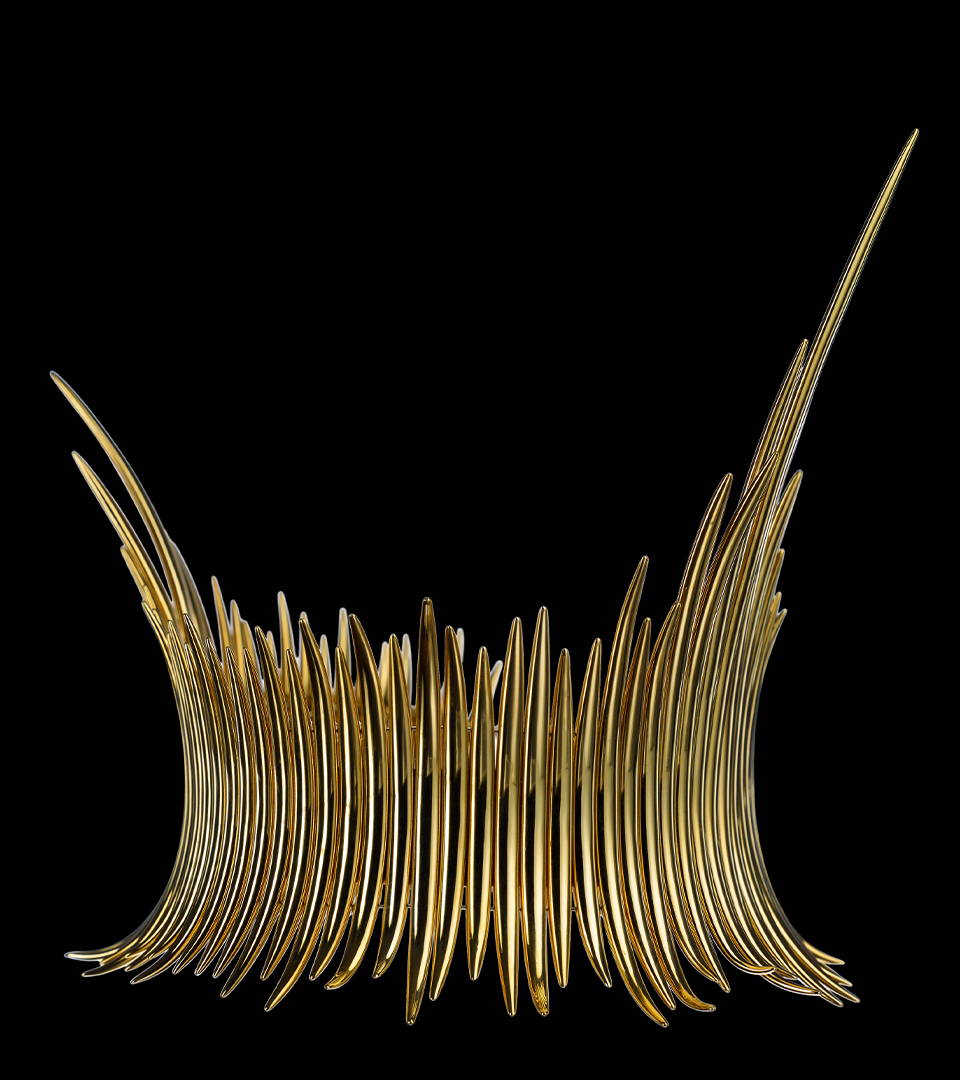 Luminous quills undulate around the neck, building in size, and capturing the light. Vulnerability gives way to romance; in an explosion of perfect curves. The effect is a dangerous one; Leane meticulously hand-placed each quill to perforate away from McGrath's neck; an edgy interplay between seduction and provocation. Leane's career was founded on such pieces; daring designs which induce intense emotions. There is no doubt that Leane is a romantic at heart; as an artist, a storyteller, and visionary.
Created for 21 Young Street, Kensington, London, 2018
Façade, balcony railings and gates

"I believe that with creative freedom, innovation can truly flourish. It is when the magic happens. To be invited to create a piece of art such as this and for it to be protected for 125 years is truly an honour and testament to our future legacy." - Shaun Leane
Shaun Leane's creative direction took another unexpected turn when in 2016, he was commissioned to design 2 gates, 36 railings and balconies for a significant residential architectural project at 21 Young Street, London, in one of London's most prestigious and storied old Georgian villages. Arbour is a spectacular 40 x 30 metre bronze façade, built seamlessly into the genteelness of Kensington Square.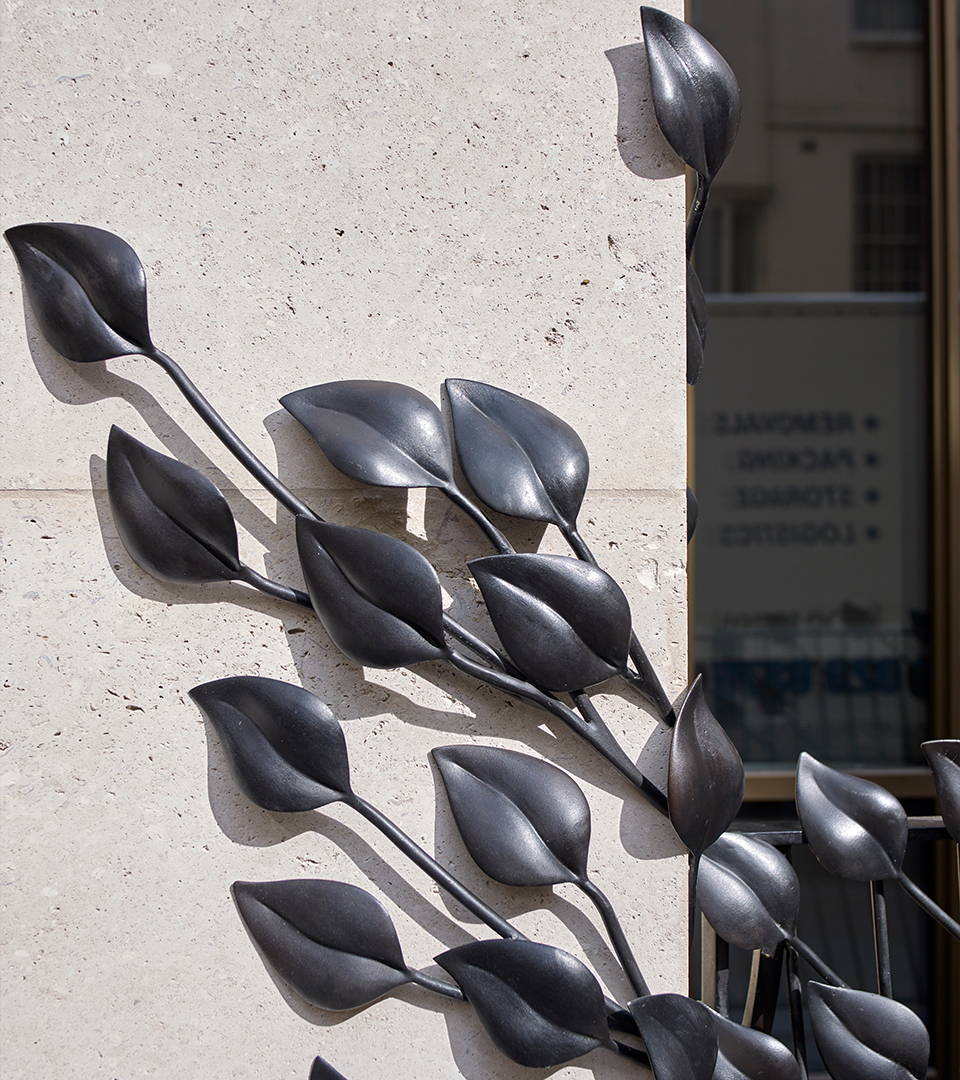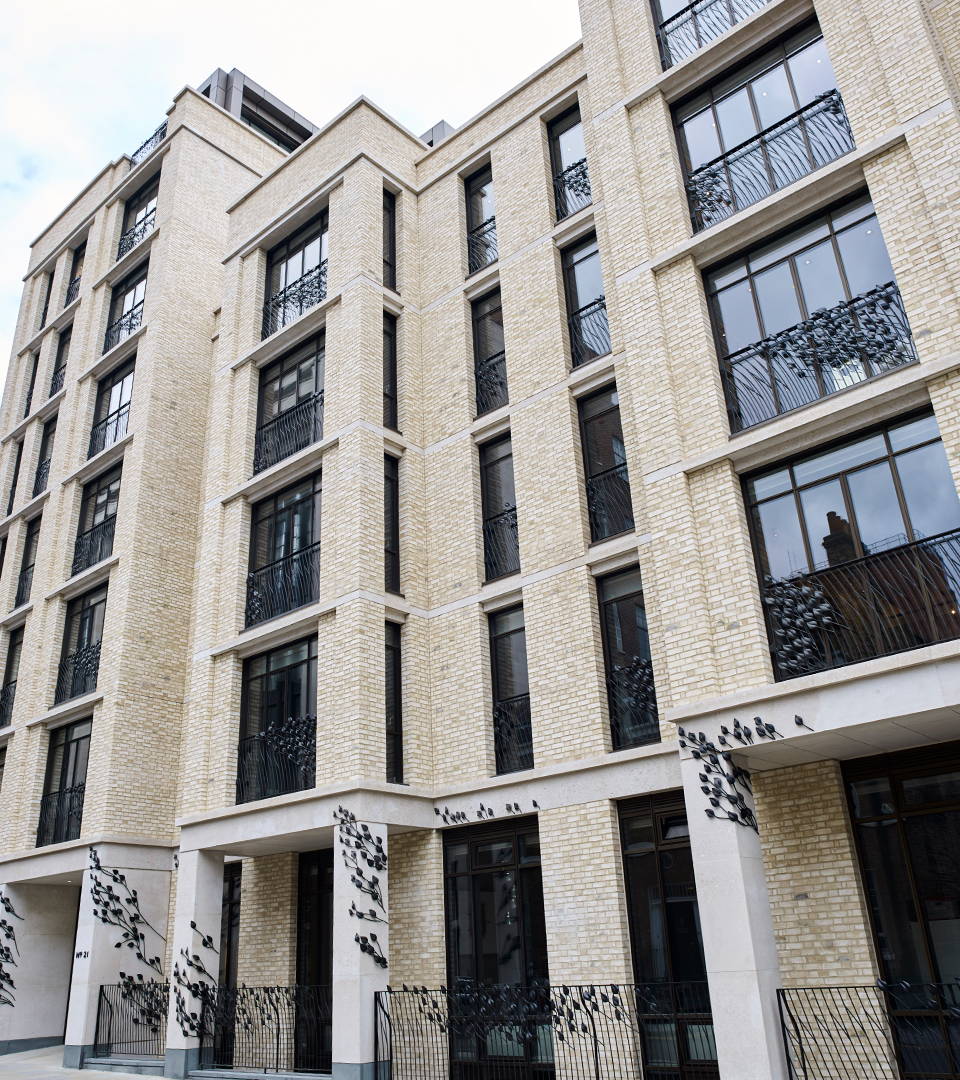 Nestled amongst Queen Anne houses, facing silver birches, weeping beeches and the Indian bean trees of the square, Leane's 1,850 bronze sculpted leaves and three dimensional branches reflect the picturesque scene in inhabits.  
Curated by Futurecity, from an Arts Advisory Panel which included Grainger, Assael Architecture, the Royal Borough of Kensington & Chelsea, Futurecity, the Victoria & Albert Museum and local residents, Shaun Leane's hybrid architectural-art sculpture is one of the biggest commissions in the UK undertaken by a jewellery designer and Leane's first foray into building design - his first ever public artwork.
Woven, tangled leaves wind across the façade of 21 Young Street, binding shadows which bathe the building in a soft, dappled light. Leane faced new challenges, technical, structural, logistical, but most essentially, how to apply his signature style to a brand new medium. Cast in Phosphor Bronze, weighing in excess of 4 tonnes, he has found a way to blend his leitmotif, flora, into a fixed, linear structure. Each balcony railing and gate is unique, with hand formed curves, and leaves cast and crafted into stems; each patented and then treated, providing a rich bronze finish. Nearly 3,000 linear metres of bronze were used to form the handrails.
Arbour is another example of Leane finding new freedom of expression, leading architecture and sculpture elegantly from the past, into the future.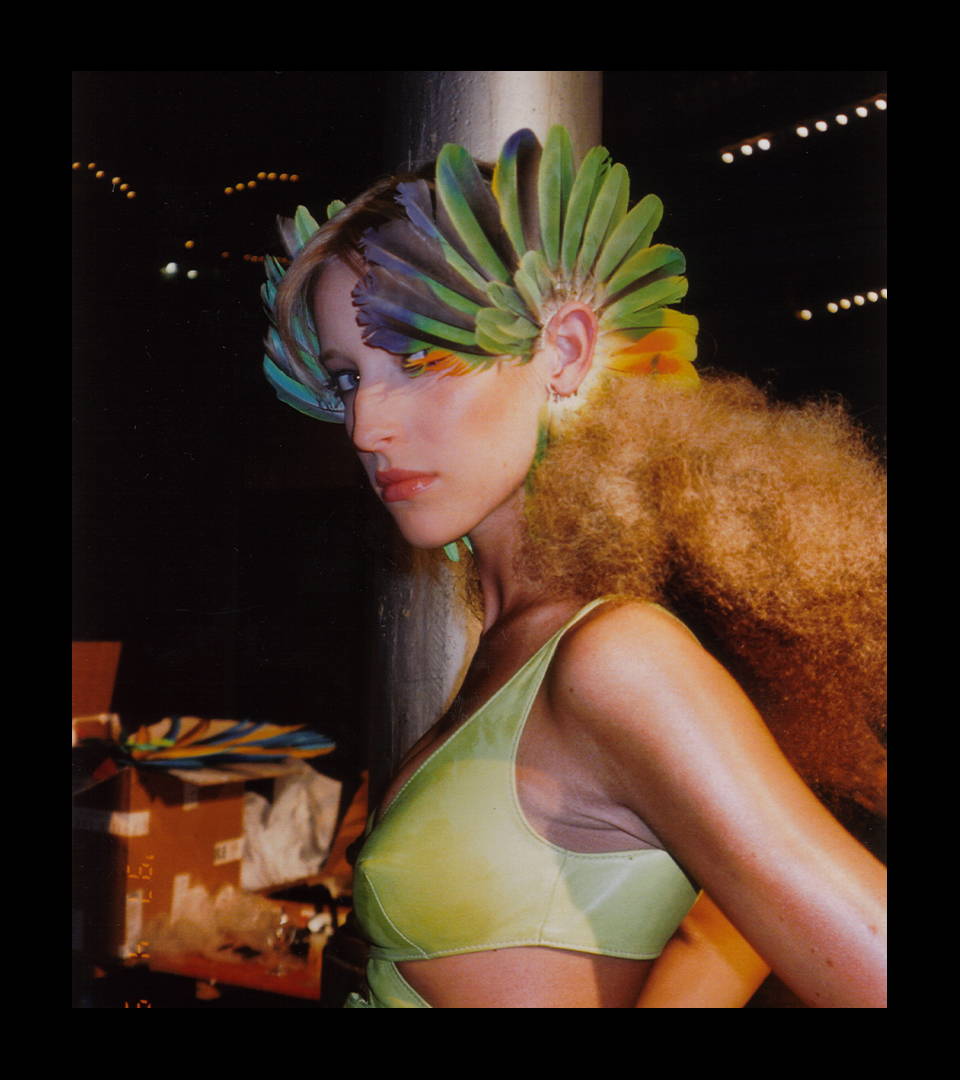 Created for Alexander McQueen Irere, SS'03:
eurasian magpie feathers, sterling silver

At the end of the SS03 McQueen show, Irere, a kaleidoscopic rainfall of neon-brights and tropical colour hit the runway. An era-defining moment became McQueen and Leane's fly-by-night colours. McQueen provided the ruffles; Leane gave the world his Feather Fan Earrings, now part of the Shaun Leane archive.
Leane was inspired by the 'fan' shape; seen often in the natural world, to create a sense of optimism and joy - sunrise, sunset, ferns, peacock tails - all of the above. It was that combination of shape and colour in particular, which had him spellbound, foraging in wild bracken, on a trip to South Africa just the year previous. His Feather Fan Earrings are made of the natural produce he flew back to the UK on special license.
Although classified as earrings, they dress the head in a flamboyant, exuberant fashion, in turns, an earpiece, or headdress - connected to the ears. Incredibly lightweight and orchestrated to curve to the crescent moon-shape of your ears, they sit flat to ones profile, a perfect crescendo wave of graduated lengths and matching colours on sterling silver mounts. Comprised of two sets; a rainbow-coloured pair, and a pair in darker greys and blacks, they were Leane's romantic homage to exotica and the South African bird kingdom, offering protection from predators and the elements. They are some of the most memorable pieces of couture runway jewellery ever made in modern history.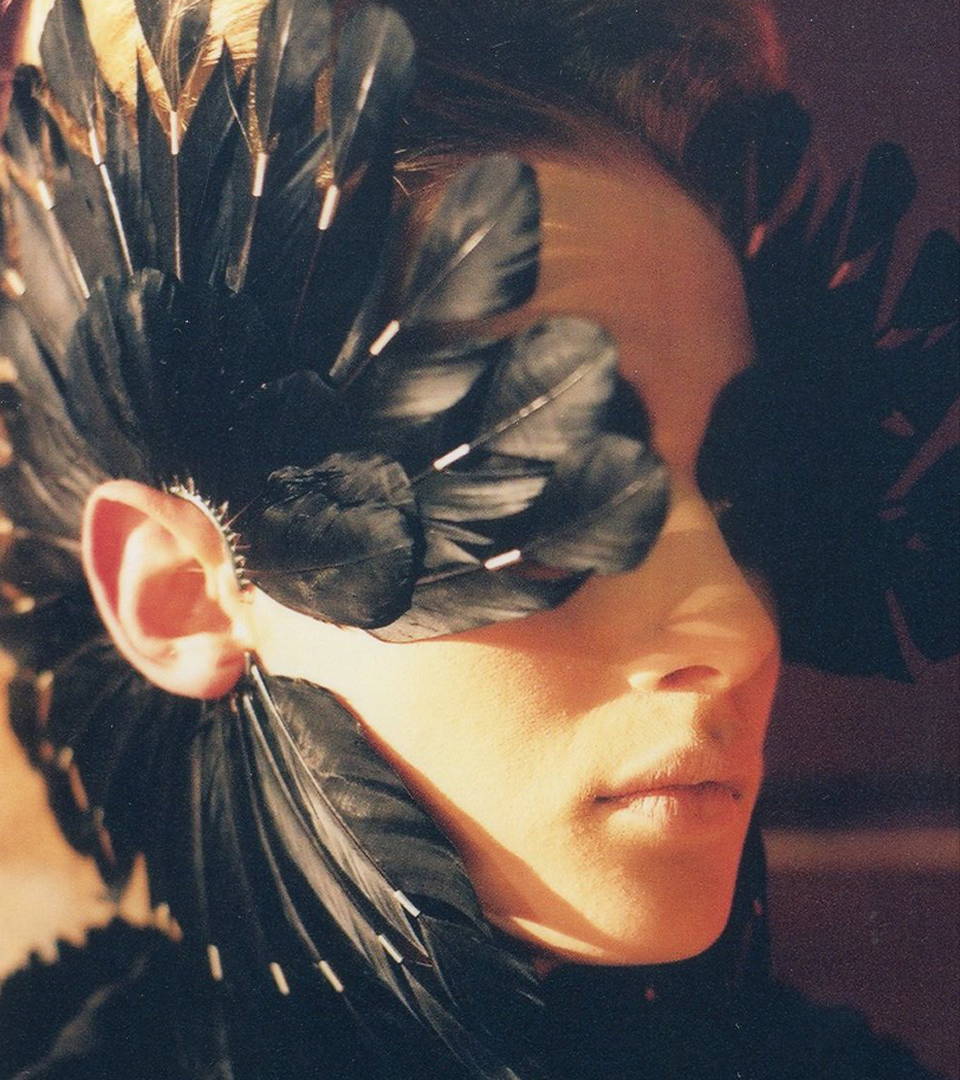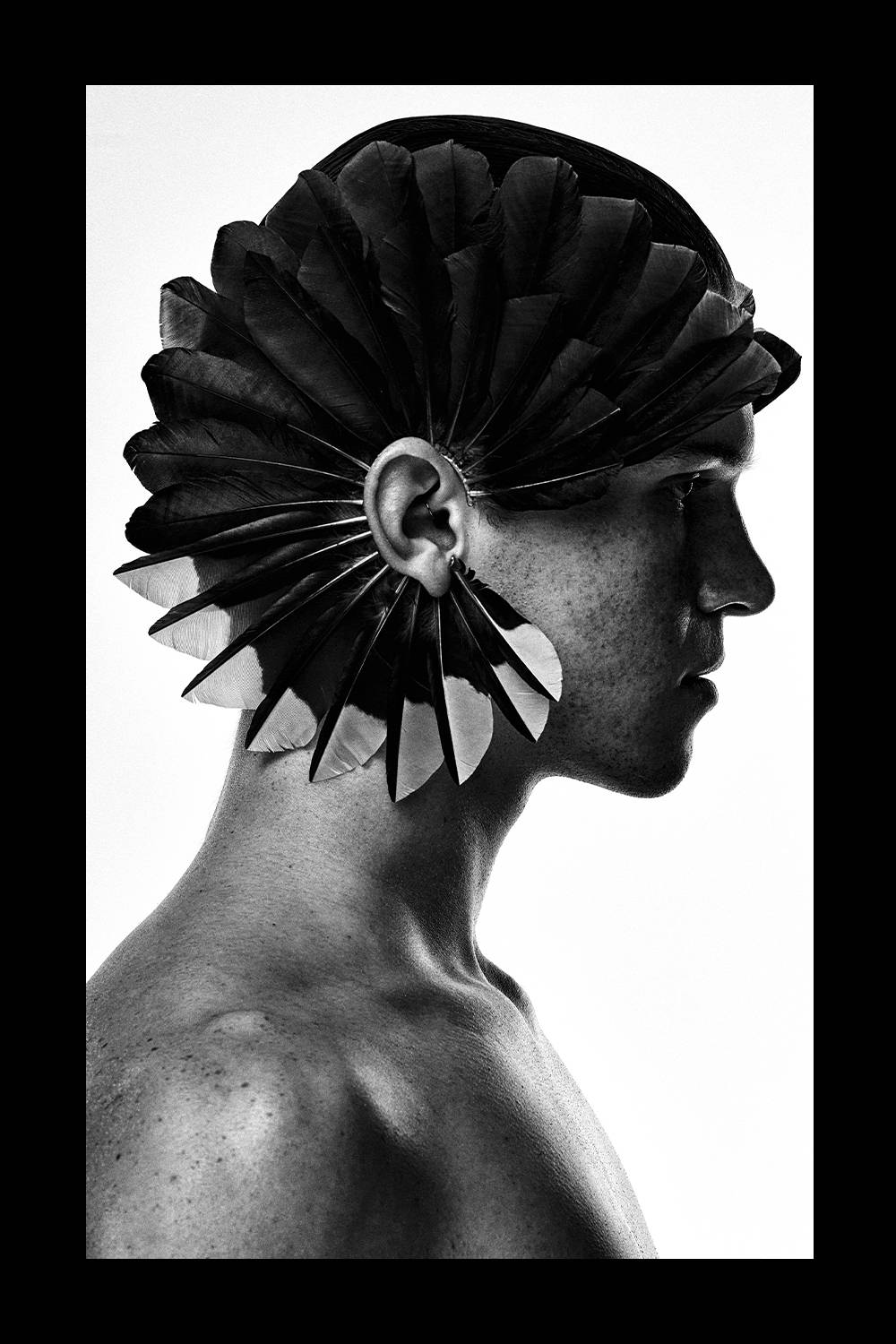 In 2020, to mark their 20th anniversary, Leane followed up with his Magpie feather earrings, which he called Two For Joy. A single pair in soft greys, black and blues, creating an illustrious new silhouette for an earring that had never been seen before. They created a moon-shaped fan of colour, conveying a dichromatic exuberant strength and warm fragility, both deep codes to Leane's work.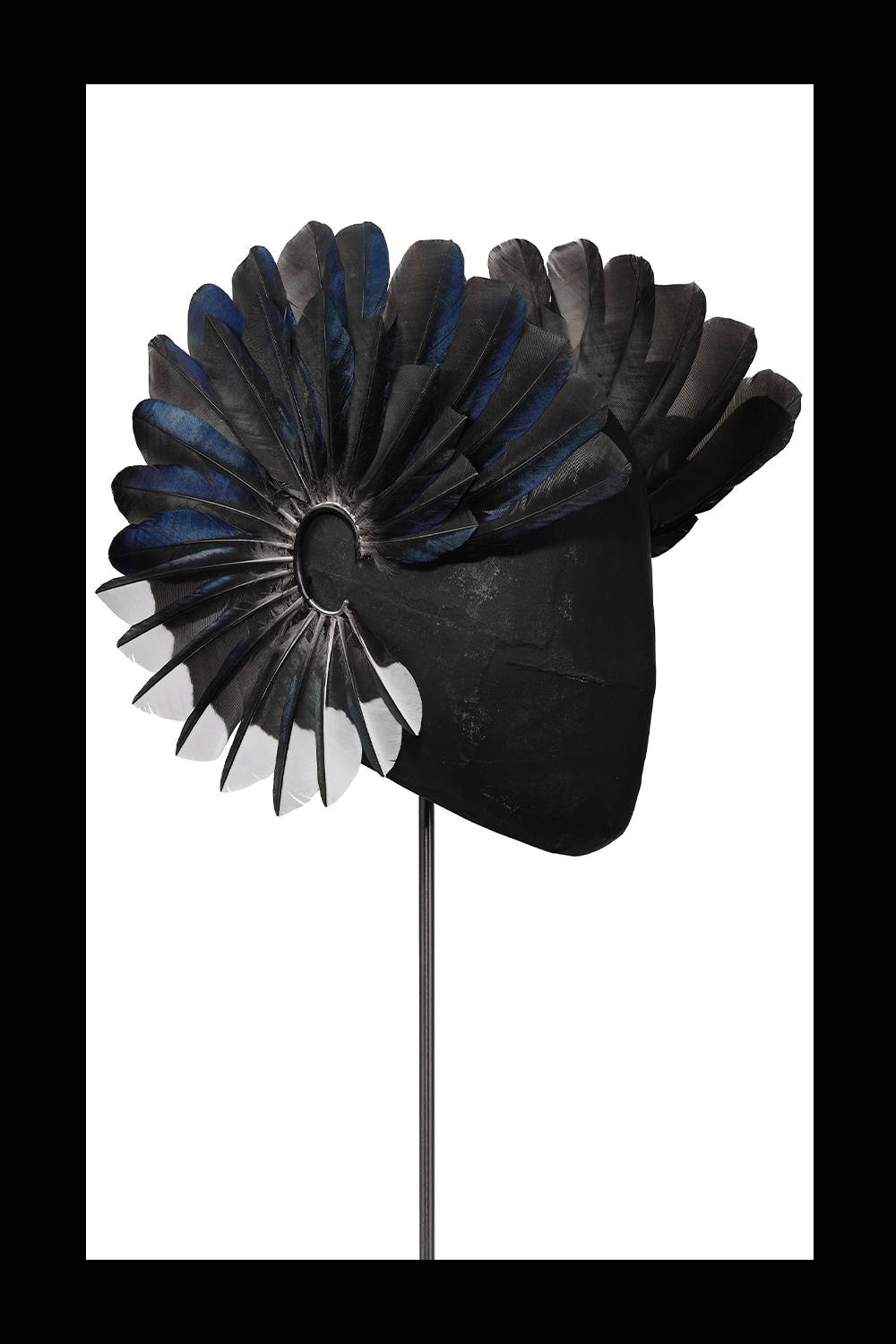 2013: sterling silver, black rhodium, diamonds

In preparation for Jawbone, Leane studied two real human skeletal jaws - a male and a female. The result was this mouthpiece crafted from aluminium and fitted to his own jaw. The appearance suggests that the wearer's skin and flesh has been stripped away, leaving the jawbone and front teeth exposed.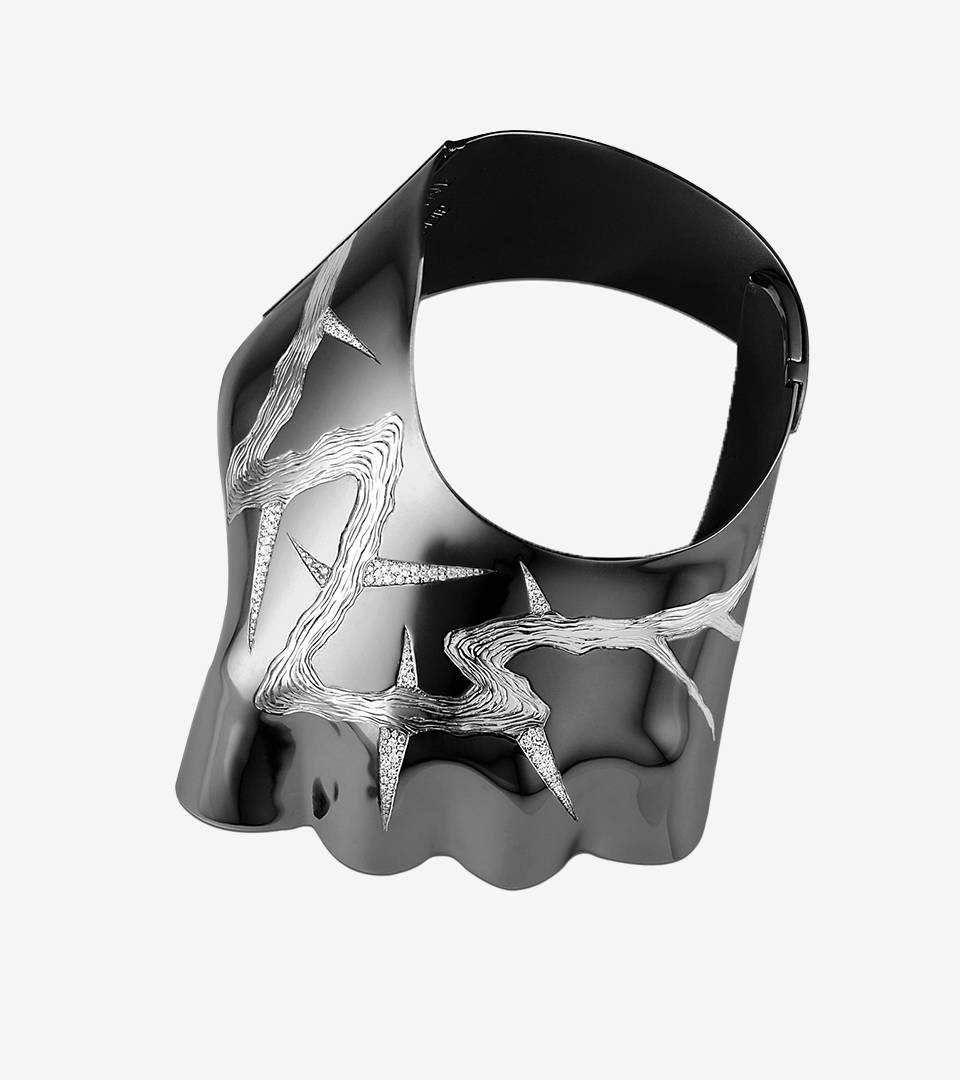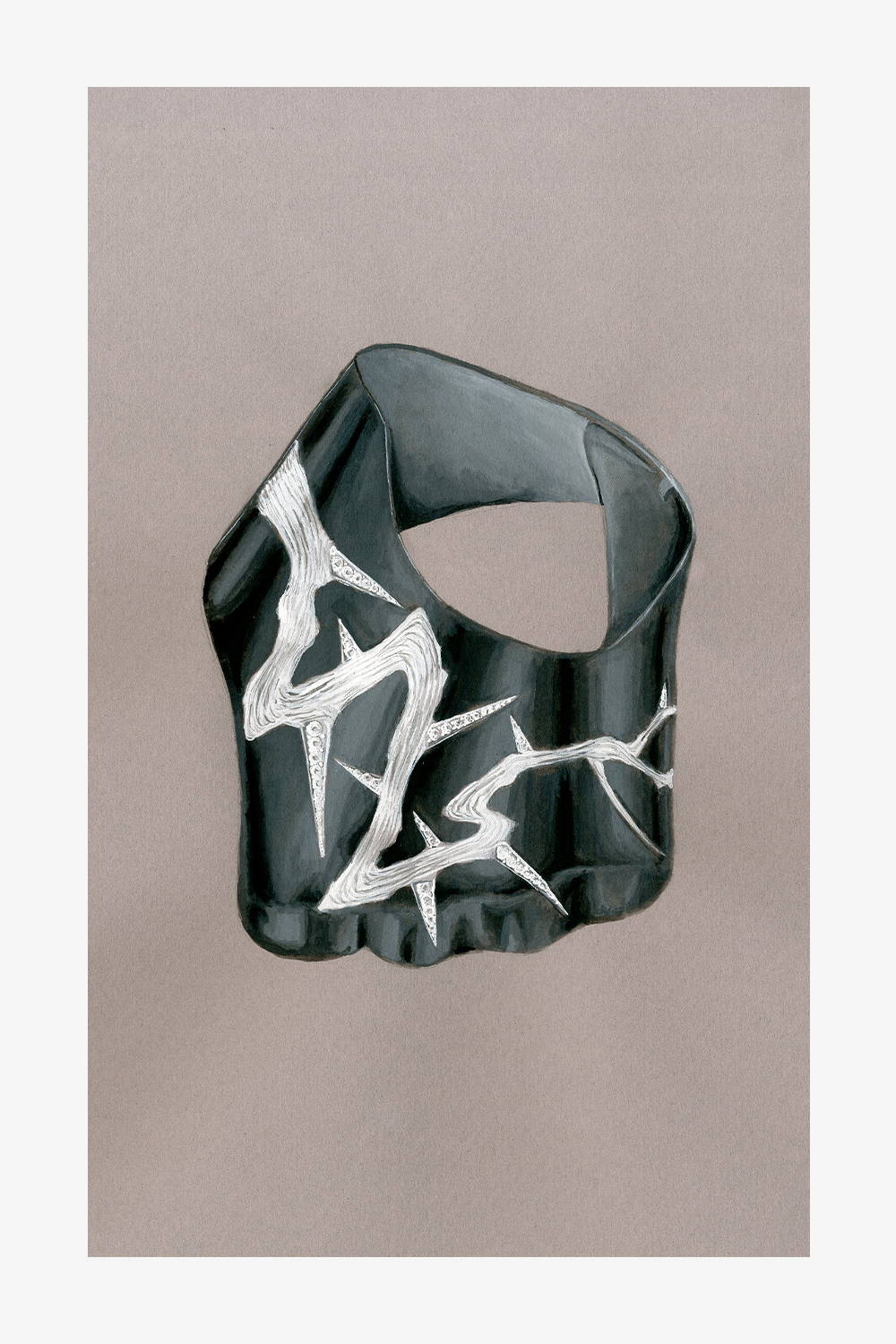 Hand-forged "barked" vines frame each knuckle, with marbled lines of pavé diamond "thorns", which contrast in colour, texture and detail. Themes are quintessential Shaun Leane; nature as protection; the wild woodlands; an urban sensibility.
Fresh from his work on Contra Mundum, Leane was revelling in the opportunity to create something fresh, to find new freedom of expression, taking high jewellery into new territory. When creating Contra Mundum, Leane made silver templates from pattern cuttings, to fit Daphne Guinness' silhouette. He observed their beauty; they were objet d'art in their own right. Leane pulsed to create something similar, using the same exacting levels of technical virtuosity.
Thorned hand cuff, although bespoke, became popular amongst design aficionados; four people in the world own a version: A private client, Daphne Guinness, Kanye West, and the late Karl Lagerfeld.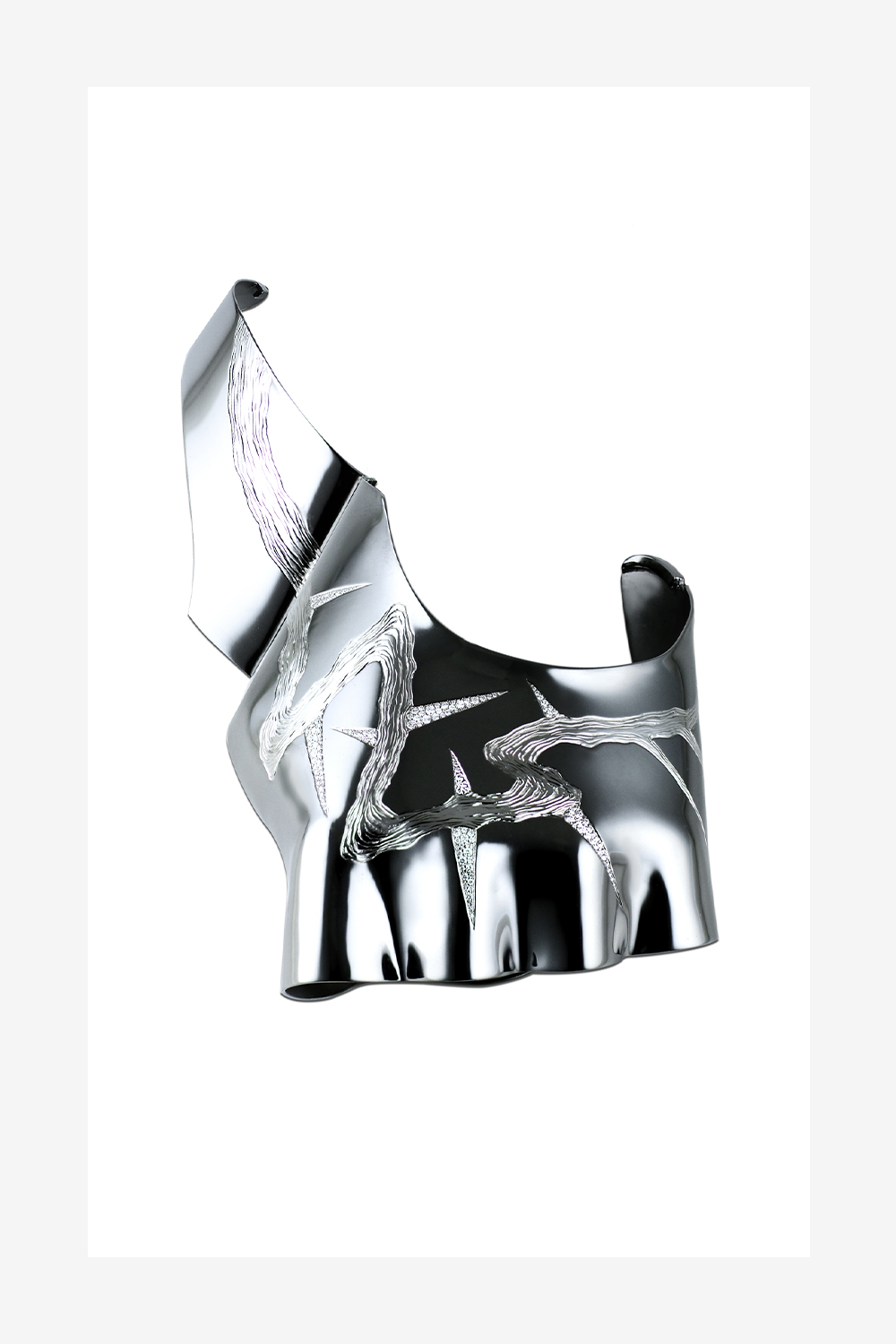 Created for Alexander McQueen Untitled, SS'98:
aluminium

Spine Corset is one of the most memorable of Shaun Leane's collaborations with McQueen which produced inimitable and breathtaking jewellery and body sculpture. The aluminium 'Spine' corset mimicked the spine's silhouette and armoured the body with a mischievous, even intimidating aesthetic. Spine Corset follows the same concept as Jawbone; the evolution of the human skeleton, but worn on the outside to emphasise the beauty within.
Constructing a life-sized vertebrae meant meticulous focus to detail, and Leane used a human skeleton to cast the corset, crafting each bone by hand. It was a landmark of what was to come in scale and material; challenging Leane, the artist, in a paradigm shift from goldsmith to silversmith. This meant bigger tools, larger moulds, even bigger waxes.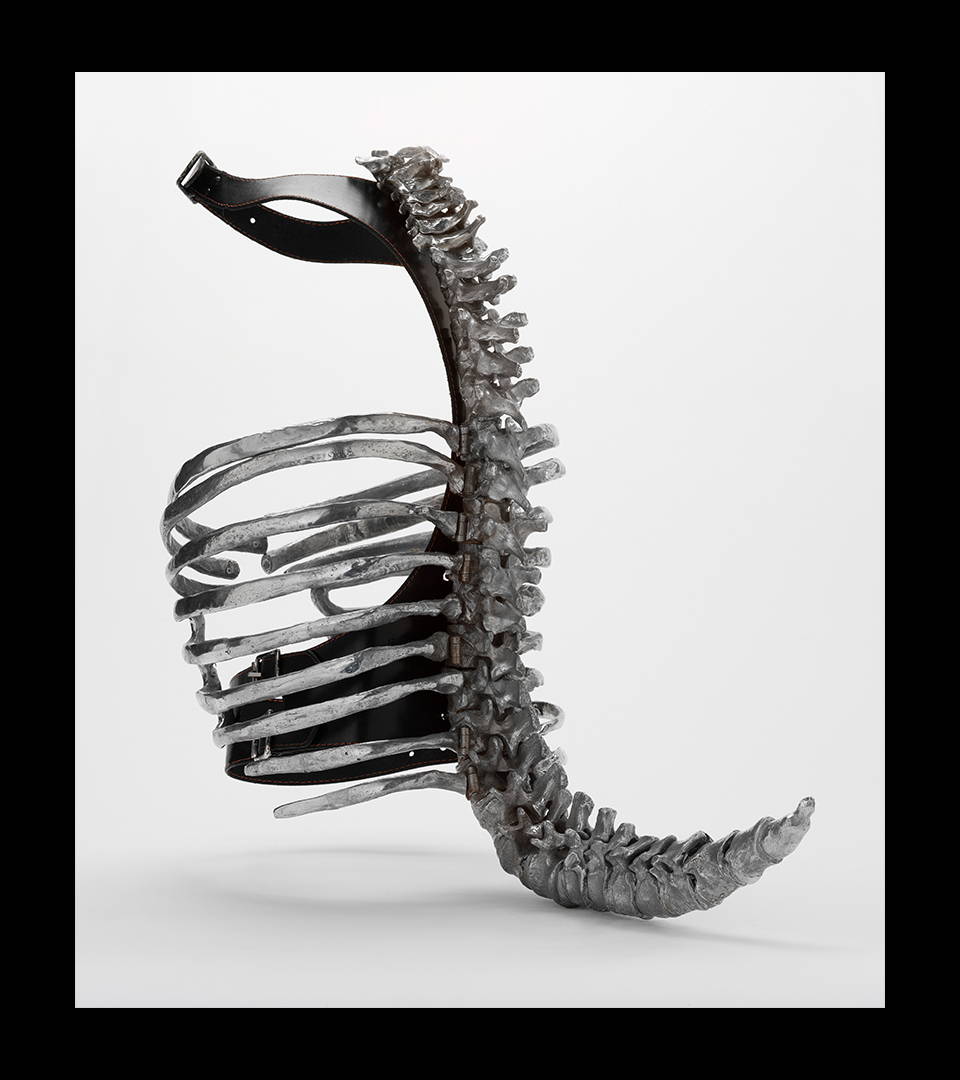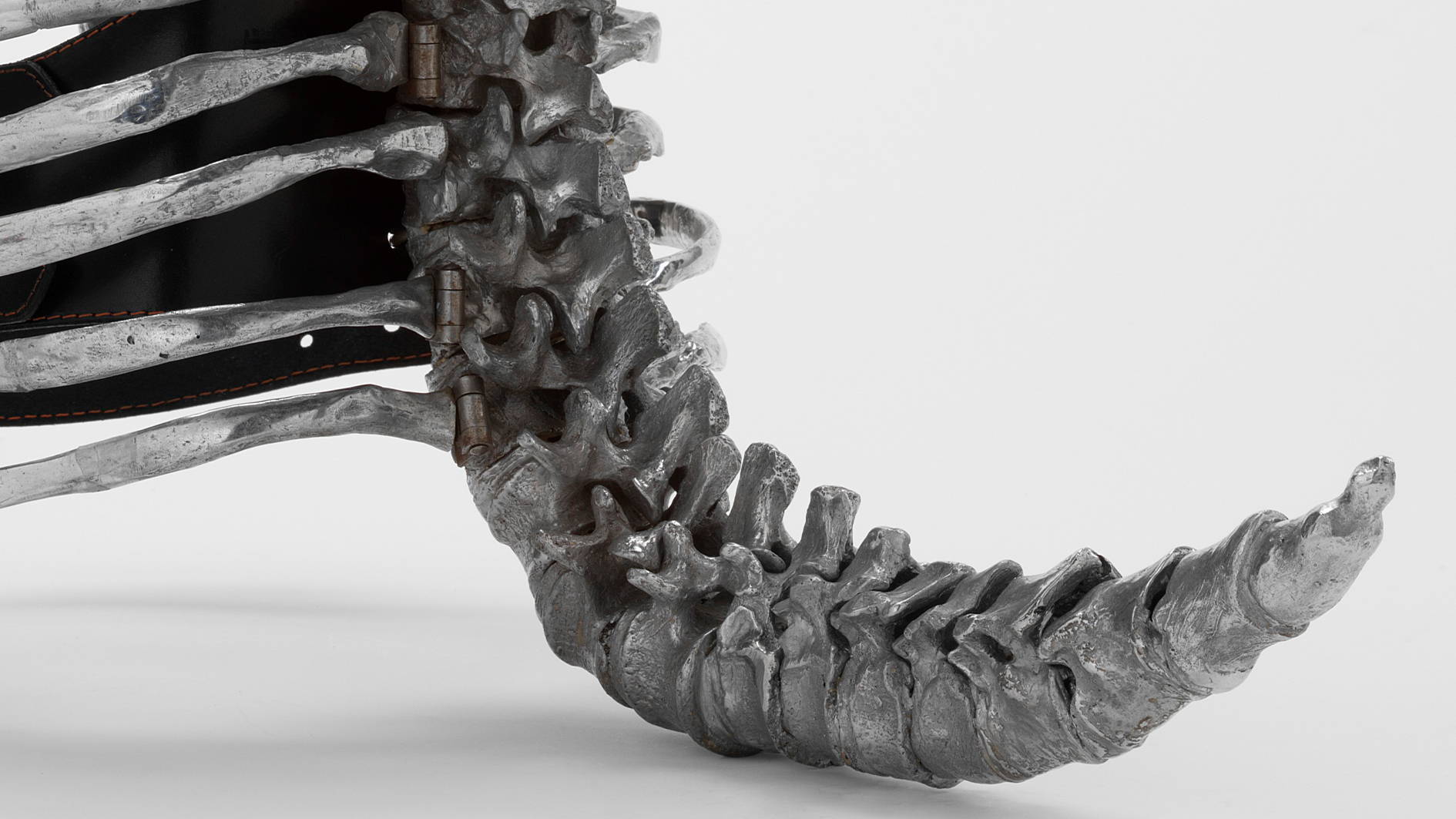 It was the beginning of Leane's visionary pieces, and a period of enormous growth for both Leane and McQueen. The joining of two artisans from different disciplines, pushing each other through their use of materials. Their refusal to compromise produced one of the most remarkable shows in fashion history.
Leane says, "When we were discussing ideas for the Spine Corset, Lee turned to me and said, "I would like it to have a tail." I knew immediately that idea came from watching the film The Omen. When the mother of the omen is discovered—her skeleton—she is half-raven and half-dog. He was definitely, very inspired by that." 
Spine Corset draws on the historical traditions of memento mori, in which skeletons are integrated into jewellery and worn garments to reflect the wearer's own mortality.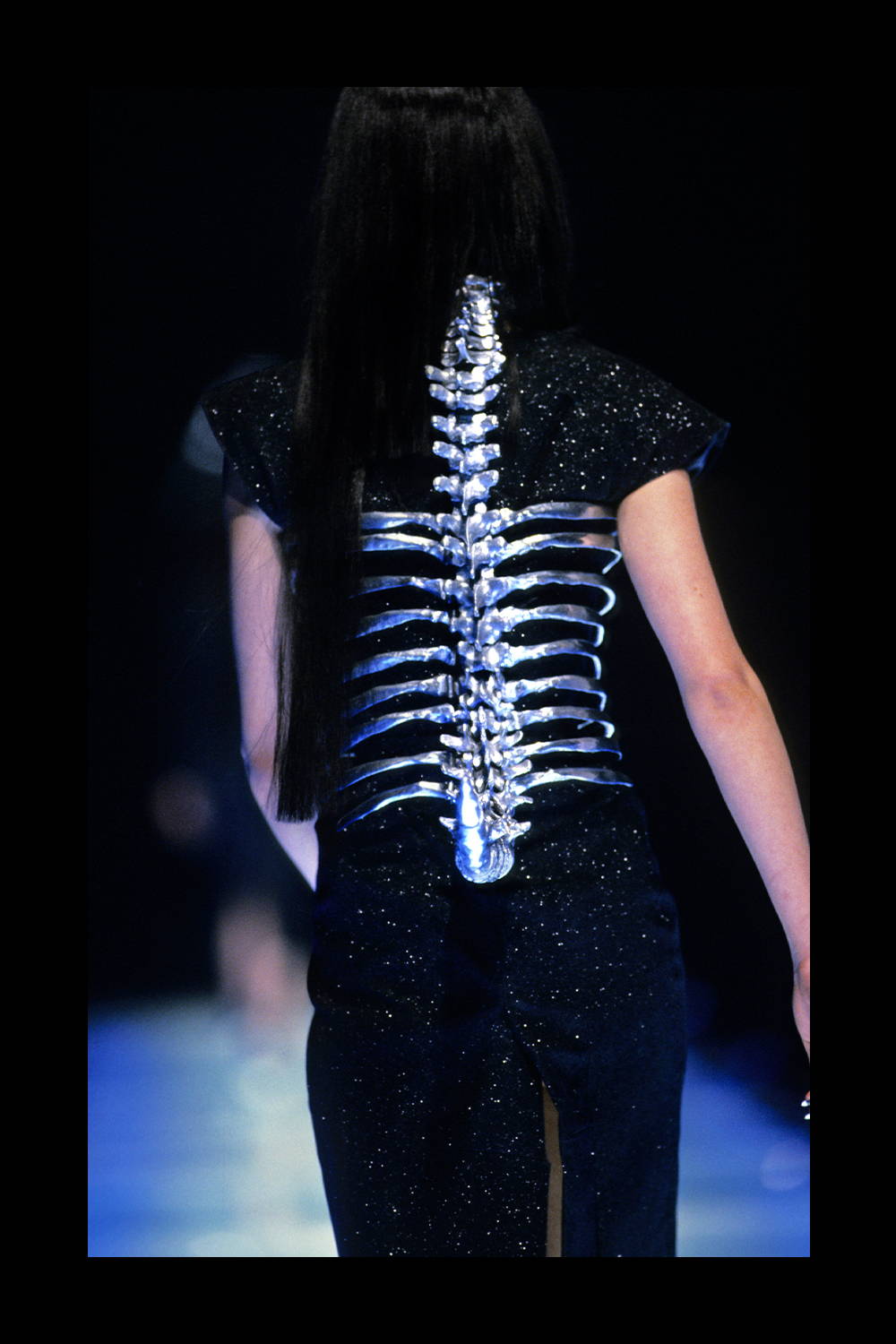 'Porcupine Quill Earrings'
Created for Alexander McQueen Irere, SS'03:
porcupine quills, sterling silver

Against McQueen's backdrop of vibrant tie-dyes and rainbow-coloured floor-sweeping tulle ruffles in SS03 show, Irere, Leane debuted his Porcupine Quill Earrings; crafted from natural resources discovered on a trip to South Africa.
The earrings were of a contemporary design and unusual in shape, rather than piercing through the lobe, organic porcupine spikes sat on and around the ear. The porcupine quills splayed out in a fan formation, protruded from silver mounts, attached to a silver ear cuff of ornate design.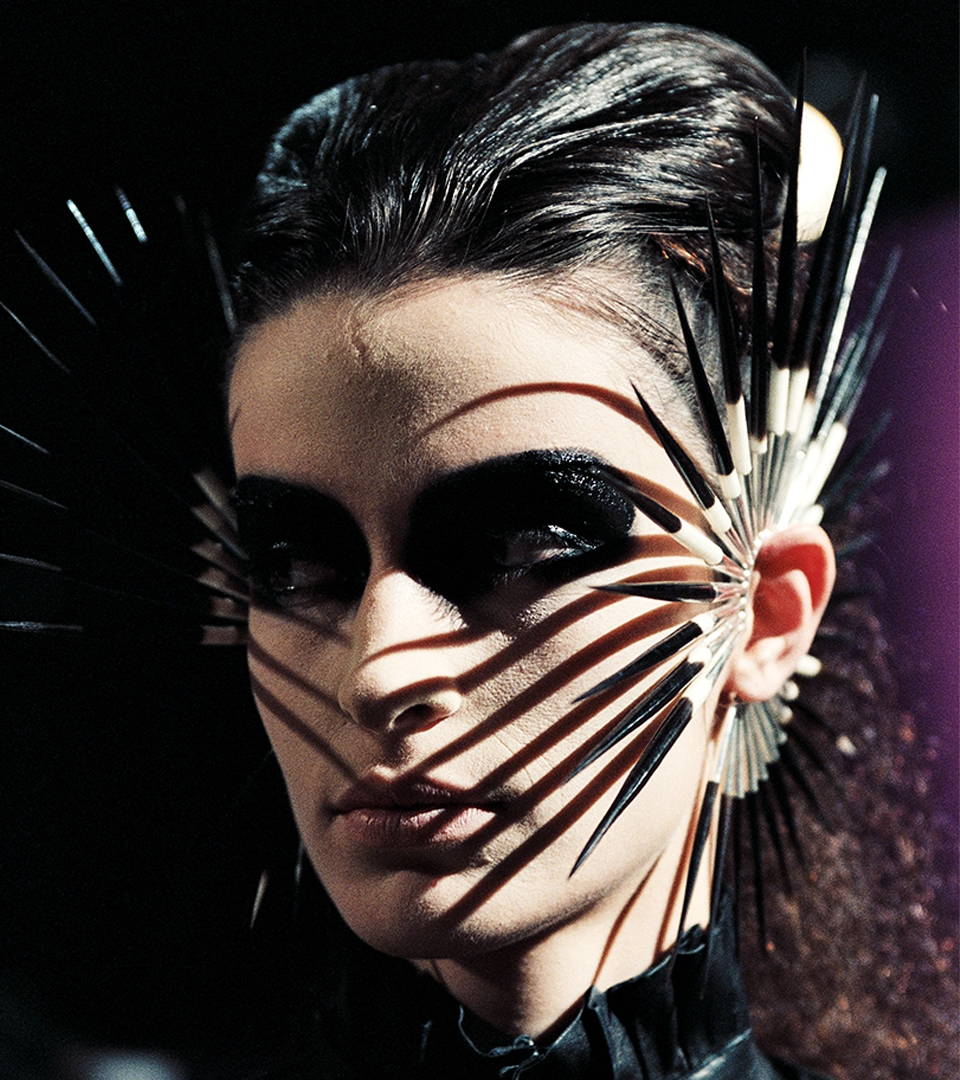 Each quill was cut to create a perfect wave of graduated lengths, the "fan" sweeps outwards, away from the face, a ripple-effect movement orchestrated which echoes the curve of the ears, and sits flat to the profile of the face.
The Quill shape captured a moment in time for Shaun Leane "the artist". His House, only born four years previous, championed by bespoke client, Isabella Blow, the double-edged Quill became one of Leane's signatures. An elegant yet dangerous curve, provocative, daring, refined; a silhouette which beautifully illustrates the journey of the 'look', the artist, the legacy - where we have come from, to where we are now.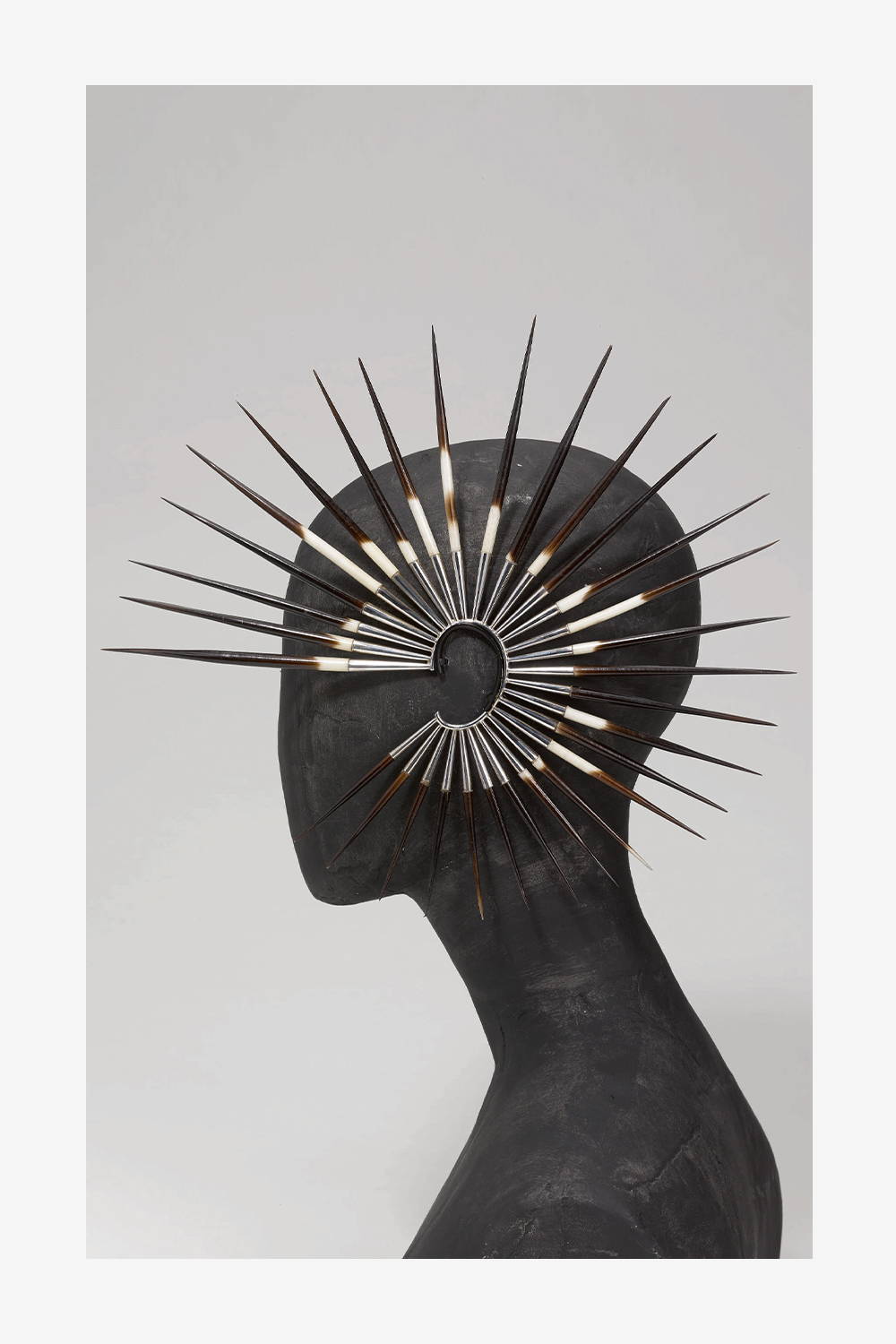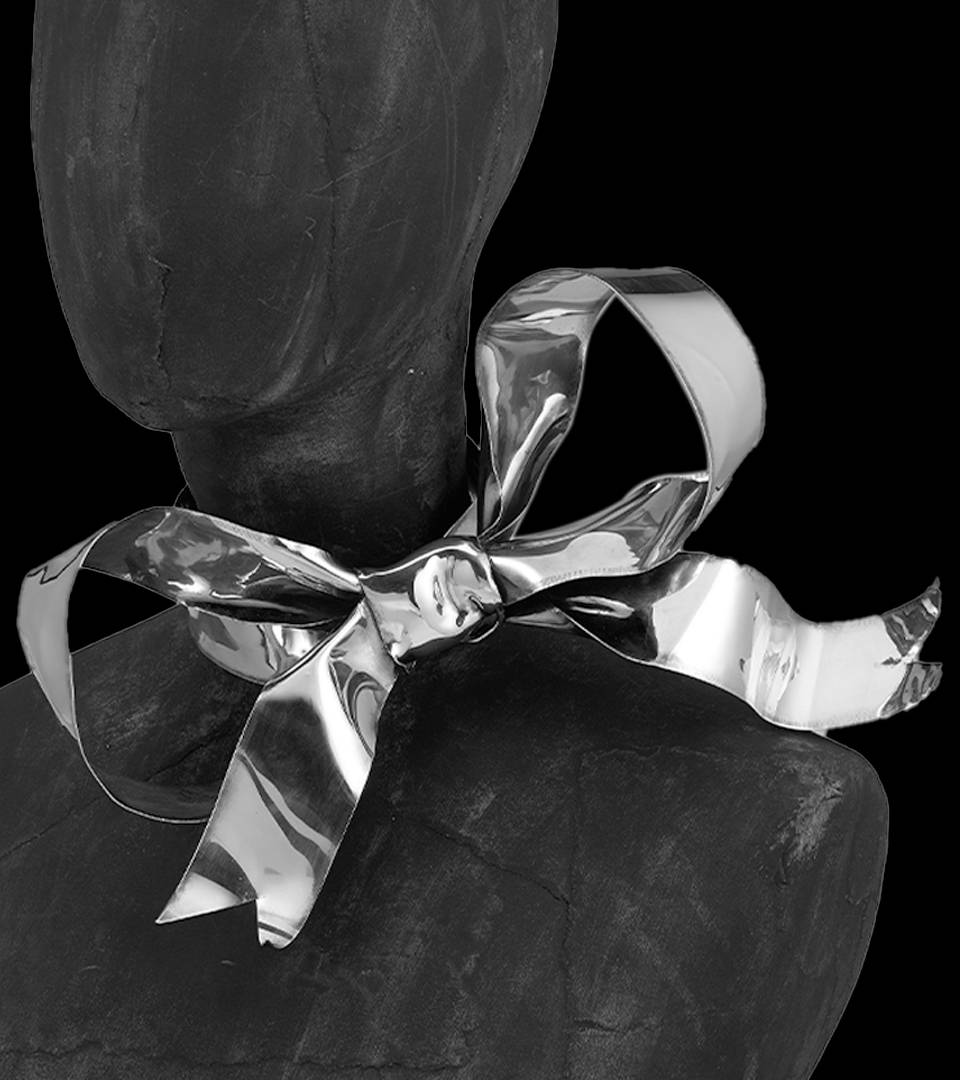 Created for Alexander McQueen Deliverance, SS'04:
sterling silver

Bow Choker is Shaun Leane's masterful silvered bow neckpiece. Resembling metallised fabric it conveys none of the rigidity of metalwork. Leane transformed something hammered, forged in a fire, into the fluidity and movement of ribbon. Hand-engraved, silvered edges emulate the texture of grosgrain; elevating catwalk jewellery to a couture level of perfection and detail. Leane's recent time spent in Paris, working on the Givenchy shows with McQueen, were evident in Bow Choker's details; the size is flamboyant, its execution delicate.
The scale and detail references post-modern takes on shape and form; in particular, Frank Gehry's sculptural buildings; the Guggenheim, New York, Walt Disney Concert Hall, Los Angeles, and the EMP Museum, Seattle. Created for Alexander McQueen's S/S04 Deliverance show, the textured layers of meaning behind Leane's work on the runway documented the artist's shift from London to Paris, to New York, and back again. Evident was a sense of nostalgia and old-world romance; feathers, wristwatch ankle straps, and intricate theatrics. Leane was homing in on his Hatton Garden training with frivolity.